The University of Hawaiʻi Maui College is among 14 venues and events honored for undertaking energy efficiency and sustainable business practices that will help their bottom line while advancing Hawaiʻi's clean energy and sustainability goals.
The Hawaii Green Business Program (HGBP) announced the awardees in January, during an awards ceremony that was held virtually for the second year in a row due to COVID-19.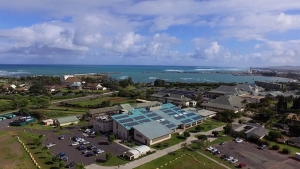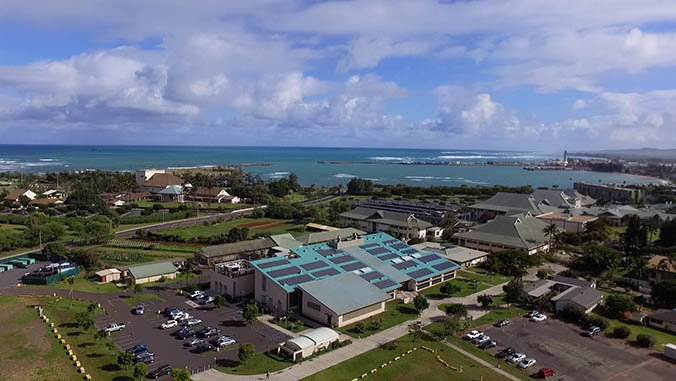 "It is an honor to present these awards that recognize the commitment and hard work done by businesses and organizations to make Hawaiʻi more sustainable," said Gov. David Ige. "Not only do their achievements keep utility costs down and create a more sustainable environment for them individually as businesses, they also are collectively contributing to Hawaiʻi's clean energy goals."
Through a combination of solar photovoltaic energy, distributed energy storage and energy efficiency measures, UH Maui College has reduced the campus' use of fossil fuel for energy by an estimated 100%.
"While there have been many initiatives on Maui in support of sustainability, UH Maui College seeks to unify these efforts to change the paradigm," said Chancellor Lui Hokoana "As in most communities, this can be attributed to the complexities that arise from the breadth and duration of persistent sustainability issues. State-of-the-art practices in sustainability science provide new opportunities to implement a longer-term approach and to avoid unforeseen consequences which have resulted in taxing consequences to our community, resources and ʻāina. Understanding and addressing the problem rather than treating the symptoms will require a complete change in traditional methods of thinking."
The businesses and events honored at this year's HGBP awards ceremony undertook a wide array of green initiatives that included planting native and endemic plants to reduce the need for excessive irrigation, using low-flow faucets and shower heads to reduce water consumption, installing LED lights and solar panels, recycling paper and food scraps, and implementing incentives to encourage employees to commute by bike.
The 2021 Hawaii Green Business Program awardees are:
Kings' Land by Hilton Grand Vacations
Outrigger Reef Waikiki Beach Resort
Outrigger Waikiki Beach Resort
OHANA Waikiki East by Outrigger
Waikiki Malia by Outrigger
Waikiki Beachcomber by Outrigger
The Westin Nanea Ocean Villas
The Volcano House
Prince Waikiki
The

Hawaiʻi

Convention Center
University of

Hawaiʻi

Maui College
Honeywell
2021 Sony Open
2021 Sentry Tournament of Champions
The awards ceremony was hosted by the Hawaii State Energy Office, Hawaiʻi Department of Health and Honolulu Board of Water Supply. The HGBP provides technical assistance to businesses, government agencies and nonprofits seeking to operate in a more environmentally and socially responsible manner.