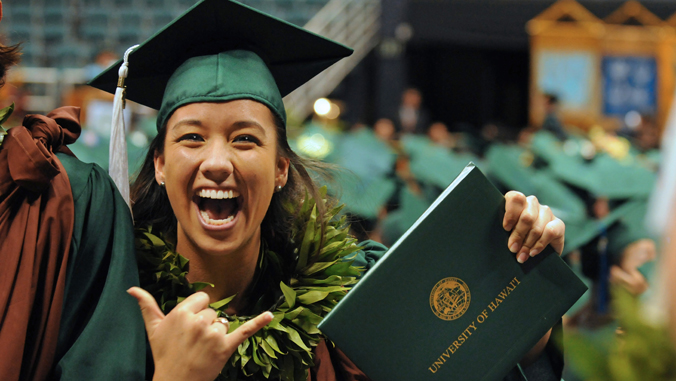 The on-time (four-year) graduation rate at the University of Hawaiʻi at Mānoa hit an all-time high in 2021 with 39.7% of first-time, full-time freshmen (fall 2017 cohort) earning their degrees in four years. UH Mānoa's on-time graduation rate has improved every year since 2006 and has steadily increased from 17% to nearly 40% over the past 11 years. UH Mānoa was nationally recognized in 2017 for its significant improvement in on-time graduation.
In addition, the five-year graduation rate rose from 44.6% in 2011 (cohort 2006) to 56.9% in 2021 (cohort 2016), and the six-year graduation rate (official graduation rate used by the federal government) rose from 55.7% in 2012 (cohort 2006) to 58.9% in 2021 (cohort 2015).
"We are so proud of the improvements that we've seen over the last 10 or so years in the four-year graduation rate," UH Mānoa Provost Michael Bruno said. "In my experience across several decades in academia, I've come to learn that the four-year graduation rate is perhaps the most important metric, and also the most difficult to improve."
Bruno added, "Our more than doubling in the last 10 or 11 years in the four-year graduation rate is a testament to the hard work of our faculty, our academic advisors, and the system developers in Information Technology, all of whom have really contributed to our improvement."
High retention rates
Over the past three years, the UH Mānoa campus has experienced its highest retention rates since 2006. UH Mānoa set a record for one-year retention rates for first-time, full-time students in 2019 at 81.1%, compared to 76.9% in 2010. Despite the COVID-19 pandemic and significant disruptions to 2020 and 2021 semesters, UH Mānoa has maintained steady rates at 80% in 2020 and 79.7% in 2021.
For more information on UH Mānoa's graduation and retention rates, visit the Mānoa Institutional Research Office website.
Initiatives to increase graduation rates
The Office of Student Academic Success, formerly known as the Office of Undergraduate Education established by Professor Emeritus Ronald Cambra in 2006, initiated many of the efforts to increase UH Mānoa's graduation and retention rates. A team of administrators and faculty from multiple units began by identifying and addressing barriers to student success. The team developed the Student Engagement, Retention and Graduation plan, which included more than 30 initiatives that focused on improving student engagement and the quality of the student experience.
These initiatives included:
developing an online degree audit system to engage students on their academic track
establishing an academic policy of mandatory advising for all students
creating four-year academic major plans to provide students with a clear path toward degrees
establishing advising offices in the UH Community Colleges to better assist students transferring to UH Mānoa
The Office of Student Academic Success, led by Interim Assistant Vice Provost for Student Academic Success Katrina-Ann R. Kapāʻanaokalāokeola Oliveira, offers a suite of programs and services including, Mānoa Advising Center, Mānoa Transfer Coordination Center, Pre-Health/Pre-Law Advising Center, Student-Athlete Academic Services, First Year Programs, Learning Assistance Center and Civic and Community Engagement.
This work is an example of UH Mānoa's goal of Enhancing Student Success (PDF), one of four goals identified in the 2015–25 Strategic Plan (PDF), updated in December 2020.