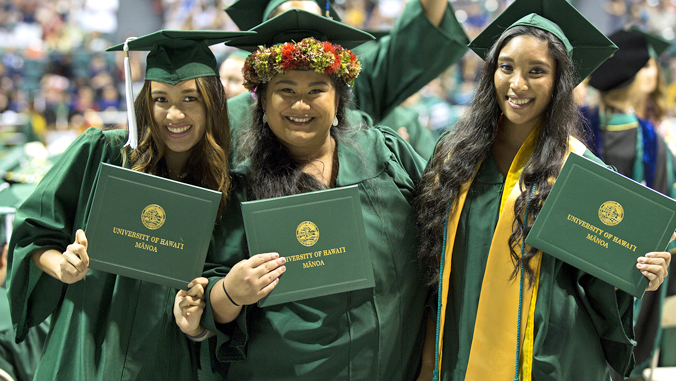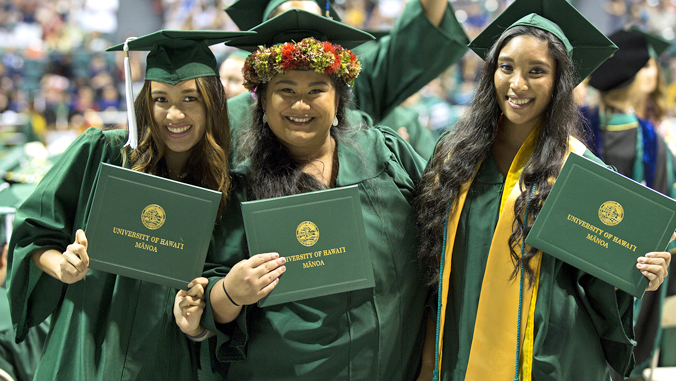 The University of Hawaiʻi at Mānoa received national recognition for its successful efforts in increasing its four year graduation rate. The Association of Public and Land-grant Universities (APLU) presented UH Mānoa with the 2017 Project Degree Completion Award on November 12 at a Washington, D.C. meeting.
The award honors institutions using innovative strategies or programs to increase retention and graduation. An initiative launched in 2007 by UH Mānoa led to an 84 percent increase in the four-year graduation rate from 2010 to 2016. During that period, the graduation rate for first-time, full-time students went from 17.5 percent to a record high 32 percent.
"Public universities are working hard to substantially increase the number of students who don't just enroll in college, but actually make it across the finish line and earn all the benefits a college education provides," said APLU President Peter McPherson. "The University of Hawaiʻi at Mānoa has made significant strides in student retention and graduation over the last decade. We're thrilled to highlight their efforts so other institutions can draw lessons from their success."
McPherson is planning on visiting the Mānoa campus to meet with university leaders, students and external stakeholders to celebrate the school's role as a national leader in developing innovative programs to increase retention and graduation.
"Being recognized as the best in the country is a fantastic affirmation of the effectiveness of the work of our faculty and leadership team to focus on student success," said Interim UH Mānoa Chancellor David Lassner. "Increasing degree completion is essential for Hawaiʻi's future and advances the hopes and dreams of our students and their families across the islands."
UH Mānoa's efforts to increase retention and graduation began more than a decade ago. The Office of Undergraduate Education was established in 2006 and a team of administrators and faculty from multiple units began by identifying and addressing barriers to student success. The team developed the Student Engagement, Retention and Graduation plan, more than 30 initiatives that focused on improving student engagement and the quality of the student experience.
These initiatives included:
developing an online degree audit system to engage students on their academic track
establishing an academic policy of mandatory advising for all students
creating four-year academic major plans to provide students with a clear path towards degrees
establishing advising offices in the UH Community Colleges to better assist students transferring to Mānoa
APLU cited the Student Engagement, Retention and Graduation plan as the main reason for awarding UH Mānoa the Project Degree Completion Award. The association has 237 members from all 50 states, the District of Columbia, four U.S. territories, Canada and Mexico and includes 24 university systems and 208 universities, of which 74 are U.S. land-grant institutions.