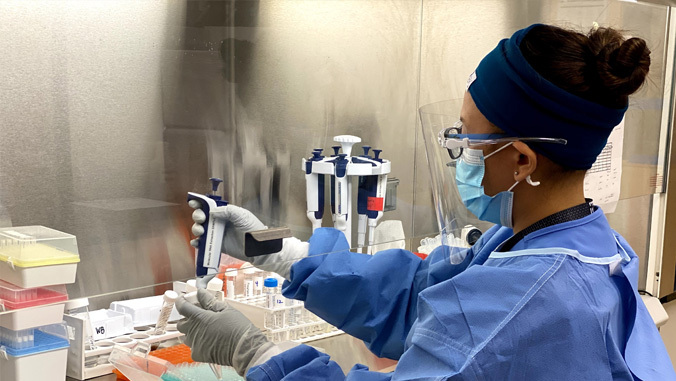 It is roughly estimated that between 30% to 50% of individuals who contract COVID-19 will become Long COVID sufferers, although data is still incomplete. The University of Hawaiʻi at Mānoa John A. Burns School of Medicine (JABSOM) is one of several universities that will participate in a national study to investigate the mysteries of Long COVID. The study, called REsearching COVID to Enhance Recovery (RECOVER) Initiative, was recently launched by the National Institutes of Health.
The most common prolonged symptoms (lasting six months or more) of Long COVID include pain, headaches, fatigue, brain fog, shortness of breath, anxiety, depression, fever, chronic cough and sleep problems.
Many of the reported symptoms are vague and subtle, resulting in the under-diagnosis of disease conditions by general physicians. But when extensive workup is performed, objective evidence of pulmonary, neurologic, cardiac and other organ damage and dysfunction is usually found.
"We need to find out what is going on," said Cecilia Shikuma, a JABSOM professor of medicine and principal investigator of the study in Hawaiʻi. "We do not know what causes Long COVID or why Long COVID develops in some individuals and not in others."
Recruiting underrepresented populations
COVID-19 disproportionately affects minority populations such as Blacks and American Indians in the U.S. Locally, COVID-19 disproportionately affects Native Hawaiians, other Pacific Islanders and Filipinos. There is evidence that these populations may not only be at higher risk of catching the virus, but, once infected, may also be more likely to become severely ill.
"It is important that Hawaiʻi local populations, including those traditionally underrepresented in clinical studies, are included in studying and finding solutions to prevent and treat Long COVID," said Shikuma.
RECOVER plans to recruit 17,680 individuals across the nation from more than 30 different enrolling sites into its study. The RECOVER study is particularly interested in recruiting participants who recently contracted COVID-19 in order to see how many develop Long COVID, individuals already suffering with Long COVID, and individuals who have no history of a COVID-19 infection.
The study will follow participants for up to four years, collecting medical history and symptoms. The data, without personal information, will be forwarded to a central database to help the researchers answer questions such as:
What percentage of individuals get Long COVID?
Are there ethnic differences?
Are there risk factors that predispose you to Long COVID?
For more information or to participate in the study in Hawaiʻi, visit the website or call the local RECOVER team at (808) 692-1335.