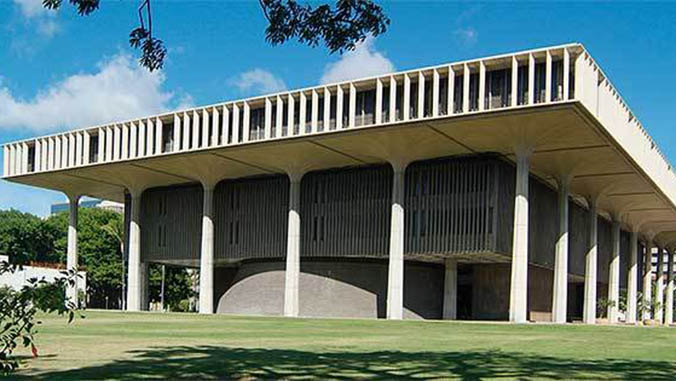 Kalbert Young, UH vice president for budget and finance and chief financial officer, shares his analysis of the UH budget as it goes through the 2022 Hawaiʻi State Legislative session.
There are two more weeks left in the 2022 legislative session as the House of Representatives and the Senate have begun to negotiate differences on their budget bills and other measures that have survived to this point. The outcomes of these Conference Committee meetings will ultimately decide funding for programs, departments and agencies across the state, including the University of Hawaiʻi.
In my last update, I provided a summary of the House draft of the budget bill (HB 1600 HD1) that crossed over from the House to the Senate on March 17. The Senate Committee on Ways and Means has since passed its budget draft, HB 1600 HD1 SD2 and sent it back to the House. The Legislature has until April 29 to finish their conference committee meetings and craft a final version of the budget.
I am pleased to report that both the House and the Senate budgets include the vast majority of our primary budget request this legislative session, the restoration of about $42.5 million in funds cut last year. The lone exception is that the Senate did not restore $1,080,000 of funding to UH West Oʻahu. There are other concerns.
The Senate draft of the budget bill includes 23 provisos specifically related to UH that place restrictions, requirements and/or conditions on the funding. This represents the most provisos I have ever seen attached to the budget.
The Senate draft also provides funds to significantly more individual items compared to the House draft. While funding is always appreciated, the vast majority of these items were not requested by the Board of Regents or UH Administration, so are considered legislative initiatives. The driving reasons for the increase in funding to UH is to satisfy federal Maintenance of Effort requirements (more on that shortly) and because State tax revenues are coming in above forecasted levels. That means there are a lot of State funds that the Legislature is trying to deploy.
My team has created a table that compares the total general fund budgets for each of the campuses in the board, governor, House and Senate versions of the budget, and the dozens of added items and provisos. Due to its length, it has been placed at the end of this online message.
Maintenance of Effort
The Maintenance of Effort (MOE) is a provision in the federal coronavirus response packages (CARES, ARPA, etc.). The intent is to ensure that lower and higher education continue to receive their pre-pandemic percentage of the state budget, and noncompliance could jeopardize hundreds of millions of dollars of federal aid to the state. Federal guidelines from the U.S. Department of Education state that "…in quantifying support for higher education, the data used by a State to determine the level of support may not include support for capital projects, research and development, or tuition and fees paid by students."
At this point, many of the Senate's add-ons may not comply with the federal guidelines and are being reviewed as part of the process ahead of Conference Committees. The Legislature, state, and UH need to be certain that add-ons are in compliance with the MOE provision. UH is working with legislators in the House and Senate, and with the State Department of Budget and Finance to address the issue.
Positions eliminated
An item of serious concern in the Senate's budget draft is the elimination of more than 90 position counts. While most are intentionally vacant due to fiscal preservation measures in place due to the pandemic, there are three specific employees targeted for elimination, including the UH System/UH Mānoa Director of Communications, a faculty specialist at UH West Oʻahu, and an assistant in the Board of Regents office. This approach of singling out specific UH employees for termination has been attempted in prior Senate-proposed budgets, but given the magnitude of the Senate add-ons, it makes little financial sense to reduce approximately $2.4 million of funding for positions while also adding more than $274 million to the operating budget. Since the position cuts are not for financial reasons, this action can appear to be targeted and punitive in purpose. It is another area that we will be working to address before the session ends.
Capital improvement projects
For the capital improvement projects (CIP) budget, UH requested $89 million for FY23 in additional General Obligation Bonds to address capital renewal, progress on deferred maintenance and funding for projects to modernize each of the campuses within the UH System. HB 1600 HD1 SD2 includes $116 million for FY23 in General Obligation Bond funding for various projects. Coupled with the sizable approach of cash funding repair and maintenance work in the operating budget (approximately $180+ million), the Senate draft of the budget puts a lot of funding to facilities-related improvements.
The following table shows the CIP budget comparison between the board, governor, House and Senate:
Description
BOR FY23
Gov FY23
House FY23
Senate FY23
Hamilton Library
$6,000,000
Central Admin Facility with Parking
$4,000,000
Leeward CC Fascias
$6,500,000
$6,500,000
$6,500,000
$6,500,000
Waikīkī Aquarium Discharge System Upgrade
$11,500,000
$11,500,000
$11,500,000
$5,750,000
Renew, Improve Modernize (RIM) – Systemwide
$33,500,000
$32,000,000
$31,360,000
RIM – UH West

Oʻahu

$2,500,000
$2,500,000
$2,500,000
Capital Renewal and Deferred Maintenance – UH Community Colleges
$25,000,000
$24,000,000
$25,000,000
$24,000,000
UH West

Oʻahu

Campus Expansion and University Village
$10,000,000
$10,000,000
$10,000,000

Hawaiʻi

CC – Redevelopment of Manono Campus
$2,000,000
Minor CIP – UH Community Colleges
$4,000,000
UH Maui College – Vocational Technology Center
$4,000,000
Makai Research Pier
$750,000
Waiākea Research Station
$6,890,000
Clarence TC Ching Athletics Complex
$18,400,000
Les Murakami Baseball Stadium Turf Replacement
$2,000,000
UH Mānoa Athletics-New Facilites at Lower Campus
$750,000
Total
$89,000,000
$86,500,000
$55,000,000
$116,900,000
Next steps
The next major deadline will be the final decking of bills on April 29. By this time, all bills must have concluded deliberation in conference committees of both the House and Senate. The Hawaiʻi State Legislature is scheduled to adjourn on May 5, 2022. Shortly thereafter, I will provide a recap of the 2022 legislative session.
General Fund Budget Table
Description
BOR FY23
Gov FY23
House FY23
Senate FY23
General Fund Restoration – UH Mānoa
$30,000,000
$30,000,000
$30,000,000
$30,000,000
General Fund Restoration – JABSOM
$1,200,000
$1,200,000
$1,200,000
$1,200,000
General Fund Restoration – UH Hilo
$2,280,000
$2,280,000
$2,280,000
$2,280,000
General Fund Restoration – UH West

Oʻahu

$1,080,000
$1,080,000
$1,080,000
General Fund Restoration – UH Community Colleges
$4,600,000
$4,600,000
$4,600,000
$4,600,000
General Fund Restoration – UH System Support
$3,391,232
$3,391,232
$3,391,232
$3,391,232
Athletics – UH Mānoa
$3,600,000
$3,600,000
$12,400,000
$7,200,000
Athletics – UH Hilo
$400,000
$400,000
$1,400,000
$800,000
PISCES – UH Hilo
$550,000
$550,000
$550,000
$550,000
Creative Media – UH West

Oʻahu

$282,000
$282,000
$282,000
Nursing Clinical Instructors – UH Mānoa
$381,767
$381,767
$381,767
Nursing Clinical Instructors – UH Hilo
$532,150
$532,150
$532,150
Nursing Clinical Instructors – UH Community Colleges
$842,572
$842,572
$842,572
Residency Program Expansion – JABSOM
$2,040,000
$1,880,000
$3,340,000
Teacher Workforce Education – UH Mānoa
$557,097
$557,097
$557,097
IT and Cybersecurity Workforce – System Support
$1,575,000
$1,575,000
$1,575,000
Creative Media – UH Mānoa
$380,000
$580,000
$380,000
Aviation Program – UH Hilo
$190,000
$190,000
$190,000
Repairs, Maintenance and Equipment – Systemwide
$21,700,000
$38,100,000
Immersion School Teaching Pathway at

ʻImiloa

– UH Hilo
$2,889,496
$1,200,496
Food Innovation – UH Maui College
$146,000
Culinary Institute of the Pacific –

Kapiʻolani

CC
$339,840

Hawaiʻi

Promise Expansion to UH Mānoa
$12,506,283

Hawaiʻi

Promise Expansion to UH Hilo
$1,773,450

Hawaiʻi

Promise Expansion to UH West

Oʻahu

$5,080,639

Hawaiʻi

Promise – Additional Funds to UH Community Colleges
$4,800,000
$4,800,000
Mauna Kea Stewardship and Management – UH Hilo
$14,000,000
Coastal Erosion (12 Asst. Prof., 10 GA) – UH Mānoa
$1,920,000
Cyber Security and Digital Infrastructure – UH Mānoa
$40,000
Renewable Energy and Power – UH Mānoa
$40,000

Hawaiʻi

Institute of Marine Biology – UH Mānoa
$171,000
CTAHR – Anthurium Research, Ornamental Breeding and Moving Costs – UH Mānoa
$418,000
Ehukai Beach Park Study – UH Mānoa
$1,598,905
Center for the Family – Homeless Data Clearance House – UH Mānoa
$300,000
Sea Grant – UH Mānoa
$200,000
Puna Traffic Studies – College of Engineering – UH Mānoa
$2,000,000
Repave and Restripe Parking –

Hawaiʻi

CC
$2,000,000
Repaint Buildings –

Hawaiʻi

CC
$1,000,000
Recoat Roofs –

Hawaiʻi

CC
$1,000,000
Repave and Restripe Parking – Honolulu CC
$4,000,000
Repave and Restripe Parking –

Kapiʻolani

CC
$2,300,000
Recoat Roofs –

Kauaʻi

CC
$1,600,000
Repave –

Kauaʻi

CC
$300,000
Reseal Building, Reroof – Leeward CC
$1,000,000
Repave and Restripe Parking – Leeward CC
$3,500,000
Refloor – Leeward CC
$300,000
Replace Fencing – UH Maui College
$250,000
Repaint Building – UH Maui College
$750,000
Replace Fascia – UH Maui College
$750,000
Resleeve Drain, Replace Downspouts – UH Maui College
$750,000
Replace Walkway Columns – UH Maui College
$750,000
Repave and Restripe Parking – Windward CC
$2,000,000
Repaint Building – Windward CC
$3,000,000
Repave Parking Lot –

Hawaiʻi

CC
$400,000
Repaint Buildings –

Hawaiʻi

CC
$1,500,000
Replace Irrigation System – Honolulu CC
$200,000
Repaint Buildings – Honolulu CC
$2,500,000
Replace Irrigation System –

Kapiʻolani

CC
$400,000
Repaint Buildings –

Kapiʻolani

CC
$2,000,000
Repaint Buildings –

Kauaʻi

CC
$2,000,000
Repave Internal Road –

Kauaʻi

CC
$300,000
Replace Irrigation System – Leeward CC
$200,000
Repaint Buildings – Leeward CC
$2,500,000
Replace Walkways – Leeward CC
$5,000,000
Replace Irrigation System – UH Maui College
$200,000
Refinish and Repaint Buildings – UH Maui College
$4,000,000
Repaint Building – UH Maui College
$1,000,000
Refinish and Repaint Building – Windward CC
$1,000,000
Reroof Buildings – Windward CC
$3,000,000
Support Services – UH Community Colleges
$553,566
Nursing and Nursing Faculty – UH Community Colleges
$850,000
2 Temp Business Officers – Windward CC
$136,000
Temp Geology Faculty – Windward CC
$70,000
Temp Physics Faculty – Windward CC
$70,000
Temp Office Assistant –

Kauaʻi

CC
$48,000
2 Temp Fiscal Officers –

Kauaʻi

CC
$136,000
2 Temp HR Specialists –

Kauaʻi

CC
$136,000
2 Temp Procurement Specialists – UH Maui College
$136,000
Temp Enrollment Specialist – UH Maui College
$68,000
Temp Recruiter – UH Maui College
$68,000
Temp Instructional Designer – UH Maui College
$68,000
Temp Media Specialist – UH Maui College
$68,000
Holistic Student Support and Mental Health – UH Community Colleges
$1,000,000
Nursing – Honolulu CC
$1,000,000
Temp Counselor – Windward CC
$67,500
International and Regional Partnership Program – UH Maui College
$110,000
Value Added Product Development Center – Perm Food Scientist – Leeward CC
$90,000
Value Added Product Development Center – Perm Admin and Fiscal Support – Leeward CC
$46,000
Value Added Product Development Center – 2 Perm Security Officers – Leeward CC
$85,050
Value Added Product Development Center – 2 Perm Custodians – Leeward CC
$91,880
Value Added Product Development Center – Perm Microbiologist – Leeward CC
$70,000
Value Added Product Development Center – Perm High Pressure Processing Manager – Leeward CC
$70,000
Value Added Product Development Center – Perm Chemist – Leeward CC
$70,000
Value Added Product Development Center – Utilities – Leeward CC
$544,200
Value Added Product Development Center – Contract Janitors and Groundskeepers – Leeward CC
$326,400
Value Added Product Development Center – Materials and Supplies – Leeward CC
$20,000
Value Added Product Development Center – Travel Expenses – Leeward CC
$20,000
Value Added Product Development Center – Equipment Maintenance and Support – Leeward CC
$84,000
Value Added Product Development Center – Rational iCombi Pro Oven – Leeward CC
$15,000
Value Added Product Development Center – Tenney Luminaire "Free-standing" Shelf Life Chamber – Leeward CC
$25,000
Value Added Product Development Center – Vacuum Sealer P200 – Leeward CC
$5,000
Value Added Product Development Center – Water Activity Meter – Leeward CC
$10,200
Validation Lab – Supplies and Equipment – Leeward CC
$223,894
Food Innovation Center – Utilities – UH Maui College
$48,000
Food Innovation Center – R&D Classroom Labs Maintenance – UH Maui College
$20,000
Food Innovation Center – Facilities and Equipment Maintenance – UH Maui College
$78,000
Culinary Institute of the Pacific – 3 Temp Groundskeepers –

Kapiʻolani

CC
$120,000
Culinary Institute of the Pacific – Temp Custodian –

Kapiʻolani

CC
$38,000
Culinary Institute of the Pacific – Temp Spec Equipment Maintenance –

Kapiʻolani

CC
$55,000
Culinary Institute of the Pacific – 2 Temp Security Officers –

Kapiʻolani

CC
$90,000
Culinary Institute of the Pacific – Temp Restaurant Manager –

Kapiʻolani

CC
$150,000
Early College – 10 Temp Counselors – UH Community Colleges
$900,000
Early College – 10 Temp Campus Coordinators – UH Community Colleges
$750,000
Early College – Student Help – UH Community Colleges
$1,000,000
Student Basic Needs – 5 Temp Island Coordinators – UH Community Colleges
$260,000
Student Basic Needs – Student Help – UH Community Colleges
$100,000
Student Basic Needs – Supplies – UH Community Colleges
$25,000
Learn and Earn – UH Community Colleges
$645,134
Non-Credit Workforce Development Programs – Temp Program Manager – UH Community Colleges
$90,396
Non-Credit Workforce Development Programs – 6 Temp Educational Specialists – UH Community Colleges
$453,888
Non-Credit Workforce Development Programs – Temp IT Specialist – UH Community Colleges
$75,648
Non-Credit Workforce Development Programs – Subsidy for Instructor – UH Community Colleges
$672,000
Non-Credit Workforce Development Programs – Student Information System – UH Community Colleges
$248,068
31 Permanent Security Officers – UH Community Colleges
$1,274,100
Kairos Buyout – UH Community Colleges
$10,918,918
PV System – Honolulu CC
$14,026,106
2 Temp Program Managers – UH Community Colleges
$167,064
Temp CIP Fiscal Support Specialist – UH Community Colleges
$80,268
Baseball Batting Cage Repairs – UH Mānoa
$3,000,000
Library Condensation Mitigation – UH West

Oʻahu

$3,000,000
CTAHR Kona Reseach Station Repairs – UH Mānoa
$2,500,000
Parking Structure Repairs – UH Mānoa
$3,000,000
Retro-Commissioning of Various System Operations and Controls – UH Mānoa
$2,500,000
Various Mechanical System R&M – UH Mānoa
$3,000,000
Various Electrical System R&M – UH Mānoa
$2,000,000
Various Site R&M – UH Mānoa
$3,000,000
Various Building Envelope R&M – UH Mānoa
$3,000,000
Batting Cage Repair – UH Mānoa
$1,000,000
Demolition PBS Building – UH Mānoa
$2,900,000
Waikīkī Aquarium – Repair Rails and Spalls – UH Mānoa
$500,000
Parking Structure – Remove Planters and Repair Expansion Joint – UH Mānoa
$5,000,000
Equipment – Garbage Truck, Excavator, Fire Safety and Various Shop Equipment – UH Mānoa
$1,300,000
Bilger Hall Lab Renovations – UH Mānoa
$2,500,000
Elevator Repairs – UH Mānoa
$1,500,000
Roofing Improvements for Various Buildings – UH Mānoa
$3,000,000
Building Interior Improvements – UH Mānoa
$400,000
Central Plant Improvements – UH Mānoa
$950,000
Electrical Improvements – UH Mānoa
$575,000
Interior Mechanical Improvements – UH Mānoa
$1,400,000
Site/Infrastructure Improvements – UH Mānoa
$350,000
Inspection Services – UH Mānoa
$325,000
Ching Complex NCAA Expansion – UH Mānoa
$7,300,000
Acquire/Construct Facilties and Connections for Broadband – UH System Support
$10,000,000
Engineering and Project Management for Broadband – UH System Support
$6,000,000
Support for Equipping Community Hub Locations for Broadband – UH System Support
$5,000,000
Establishment and Support for Broadband Adoption Programs – UH System Support
$12,333,334
Community Design Center – Waikīkī Adaptation and Resilience Plan – UH Mānoa
$800,000
Community Design Center –

Hoʻokaulike

Prison Reform – UH Mānoa
$800,000
Community Design Center – Statewide Cultural Heritage Studies – UH Mānoa
$800,000
Community Design Center – Spectrum of Housing for

Hawaiʻi

Study – UH Mānoa
$800,000
Community Design Center – Statewide Centralized Kitchen for Farm to School – UH Mānoa
$800,000
Community Design Center – DOE Schools Campus Master Plan – UH Mānoa
$1,000,000
Perm Procurement Director – UH System Support
$125,000
Demolition of Makai Research Pier – UH System Support
$750,000
Office of VP for Research and Innovation – UH System Support
$9,500,000
Reduce positions and funds – UH Mānoa
($564,987)
Reduce positions and funds – UH Hilo
($864,093)
Reduce positions and funds – UH West

Oʻahu

($191,461)
Reduce positions and funds – UH System Support
($839,040)
Total
$47,383,232
$75,581,818
$129,357,526
$274,874,252