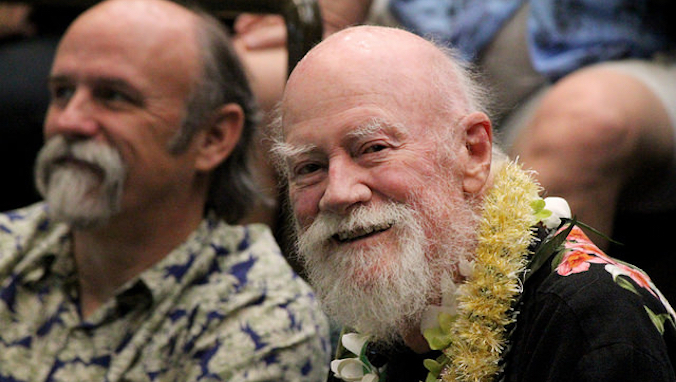 In The John A. Burns School of Medicine: 50 Years of Healing in Hawaiʻi, one of the University of Hawaiʻi's medical school founding faculty members, Martin Rayner, is described as an early champion of the school. The book's author, Larry Fleece, writes, "in its early years there was still some doubt about the success of the medical school but Rayner was confident it was going to work. Never had a doubt about the school's prospects going forward."
Rayner died on March 26. His wife, Penny Kaiman-Rayner, echoes her late husband's tenacious spirit.
"He was kind and generous and almost always happy," said Kaiman-Rayner. "He believed if you wanted something badly, you could make it happen, and he rarely failed at making what he wanted come to pass—both at home and at JABSOM, which he loved with a passion, working 60 to 70 hours per week for decades."
Joining med school before official founding
After completing his PhD at Cambridge University and his postdoctoral studies at the California Institute of Technology, Rayner was recruited to join the UH medical school by JABSOM's first dean, Terence Rogers. Rayner was hired as faculty at the UH medical school on September 4, 1964 before the medical school was officially founded by legislation in 1965.
According to Rayner, what sold him on the job was witnessing a simple act of aloha by Rogers. He was a passenger in Rogers' car when the vehicle in front of them stalled. Rogers got out of his car and with a rope, helped tow the driver's car with his own. Rayner said it was his first exposure to the embodiment of aloha, which he cherished as Hawaiʻi's signature value.
After retiring in December 2014, he was honored for 50 years of dedication to JABSOM. Colleagues, faculty, current and former graduate students, and staff established the Martin D. Rayner, PhD, Neurosciences Research, Education and Training Fund in recognition of his extraordinary service. Since 2015, this fund has provided support for undergraduate, medical and graduate students, research assistants and/or post-doctoral trainees who are conducting research in the neurosciences within the Department of Cell and Molecular Biology at JABSOM.
"Martin will be remembered as one of our great faculty in research and administration. He was giving and caring in a most generous way and funny," said JABSOM Associate Dean for Research Mariana Gerschenson, "Martin recruited me to UH and helped make my dream of having my own lab in academia a reality. He was so much fun to talk science with. We will miss our colleague and friend."
Rayner's legacy at JABSOM
Rayner leaves behind a legacy at JABSOM as an inspiring scientist, an educator to both undergraduate and graduate students and a mentor to many. In addition to being an early proponent of problem-based learning (PBL), he also taught it to medical students.
"The (PBL) process creates somebody who thinks about learning for themselves…It makes people who will try to work together to try to figure things out. They're there to be somebody for whom patients will go and say, 'Tell me what's wrong. What am I going to do? What should I do now?'" Rayner said in JABSOM: 50 Years of Healing in Hawaiʻi.
Rayner spearheaded the Cellular and Molecular Neurosciences Specialization at JABSOM in the 1990s, followed by the Interdisciplinary Neurosciences Specialization in 2010. As director of the Pacific Biosciences Research Center, Rayner conducted research, published papers and was involved in grant preparation and submission for many years.
"He was proud of the school and his ability to be part of making it as successful as it is," Kaiman-Rayner said. "I will remember him as a man whose heart was filled with love for everyone and anyone, a brilliant but humble man, strong and sweet in nature."
Rayner was born in Liverpool, England. He and Kaiman-Rayner raised three children, Nick, Jeremy and Sarah, and often enjoyed sailing across the Hawaiian Islands as a family./p>
Kaiman-Rayner regrets that she cannot, "in good-conscience" plan an in-person memorial for him during the COVID-19 pandemic but hopes to do so in the near future. In the meantime, she hopes that "those who remember him fondly will raise a glass or three (preferably a good scotch or a Guinness) to his memory."
Donations in Dr. Martin Rayner's memory may be made to to the Rayner Neurosciences Fund at the UH Foundation (account #12700204).
Read more on the JABSOM website.
—By Deborah Manog Dimaya