Research excellence at the University of Hawaiʻi at Mānoa was on display at a major international science conference, paving the way for more opportunities for UH Mānoa students in STEM (science, technology, engineering and mathematics).
Experts from the College of Engineering, Hawaiʻi Natural Energy Institute (HNEI) and Hawaiʻi Institute of Geophysics and Planetology (HIGP) delivered presentations at the Materials Research Society Spring Meeting and Exhibit at the Hawaiʻi Convention Center and Hilton Hawaiian Village in May 2022. The week-long event drew approximately 4,000 people from around the world and focused on materials science (an interdisciplinary field concerned with the understanding and application of the properties of matter).
Hawaiʻi

's ideal environment for materials science

College of Engineering Assistant Dean Song K. Choi spoke at one of the event's featured presentations about the successes of research at UH. Choi shared that materials research is happening across many different departments and units within the College of Engineering, School of Ocean and Earth Science and Technology, College of Natural Sciences and College of Tropical Agriculture and Human Resources. He also detailed the future opportunities UH has to offer, including the possible creation of a degree and/or certificate program in materials science.

"With our state having sea and salt conditions, to tropical conditions, to some that most people do not know of, like our dry desert conditions and snow conditions, these all provide environments important to different facets of materials science and materials engineering research to be conducted without having to visit various locations throughout the world," Choi said. "Because of our location in the tropics, most people would never have even conceived the idea of doing these types of research here."

Choi added, "We already have several researchers that are working in these areas, with our Department of Defense partners, and we want to make sure that the rest of the world knows that UH Mānoa and our state of Hawaiʻi, are always open to state-of-the-art research in any facets of materials science."

Choi said most engineering conferences draw about one to two thousand attendees. The materials science conference is much larger (approximately four to five thousand attendees) because materials science covers a broad range of topics and disciplines including chemistry, biology and engineering.

UH Mānoa's presence at the conference is expected to create opportunities for students. A number of sponsors have already approached Choi about potential openings for postdoctoral and research positions at other universities and companies worldwide.
Creation of a new degree program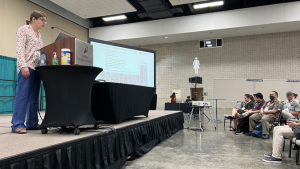 Godwin Severa, UH Mānoa HNEI assistant researcher; Przemyslaw Dera, UH Mānoa HIGP researcher; and Lilo D. Pozzo from the University of Washington presented about the importance of materials science research and education in Hawaiʻi. They especially focused on the creation of a degree program in materials science.
One of the opportunities to make the degree program a reality came in 2021 when UH Mānoa was awarded an $800,000 grant by the National Science Foundation's (NSF) Partnerships for Research and Education in Materials to support materials research partnerships between minority-serving institutions and large-scale, NSF-supported research centers and facilities. The grant allowed materials science researchers at UH Mānoa to partner and learn from the NSF-funded Materials Research Science and Engineering Center at the University of Washington.
"UH has a vibrant research program and exciting facilities for materials research," Dera said. "Our current activities focus primarily on photovoltaics, hydrogen storage, air filtration, materials at extreme conditions and X-ray science. We are hoping to strengthen and build up this program in the coming years, and look for collaborations with active research groups around the country and abroad."
According to Dera, the development of new advanced materials as well as training new expert materials scientists will be critical in fulfilling the State of Hawaiʻi Clean Energy Initiative.
—By Marc Arakaki