Designed to help increase shoreline resiliency on Oʻahu, the Waikīkī Beach Maintenance Project was one of four beach restoration projects recognized as a "Best Restored Beach" award by the American Shore and Beach Preservation Association (ASBPA).
The national award was created to highlight the benefits of restoring beaches. Restoration increases a beach's ability to mitigate storm damage and flooding from severe storms, and naturally allows beaches to adjust to short-term sea-level rise while remaining an important part of nearshore ecosystems.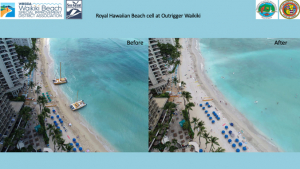 Dolan Eversole, the Waikīkī Beach management coordinator at the University of Hawaiʻi Sea Grant College Program (Hawaiʻi Sea Grant) who provided coordination, outreach and technical support for the project, described the long-term adaptation strategy for the region.
"In the longer-term, planning for resilience for Waikīkī includes considering a lot of different variables including projections for sea-level rise, beach erosion, flooding and anticipated beach and coastal land use priorities," Eversole said. "It is important we view the marine ecosystem, the coral reefs and beaches as a natural buffer to coastal hazards that require protection and regular maintenance just like other man-made protections."
The Waikīkī restoration project was completed in May 2021 and carried out along the shoreline of Mamala Bay, locally known as the Royal Hawaiian Beach, on the south shore of Oʻahu. It involved the placement of 21,700 cubic yards of sand which was "recycled" from a nearshore sand source located offshore Waikīkī. The project roughly doubled the beach's width.
The project is part of a planned, every 5–10-year, maintenance of Waikīkī Beach. It employs a "sand recycling" concept utilizing offshore sand eroded from the beach and placing the sand back on the same beach.
For more information, see the Hawaiʻi Sea Grant website.