Tyler Thorne grew up in the Hāmākua district on Hawaiʻi Island, and though he appreciated its beauty and small town charm, he also experienced the reality of living in a rural community with severe disparities in healthcare. Disparities he witnessed firsthand watching his mother battle cancer.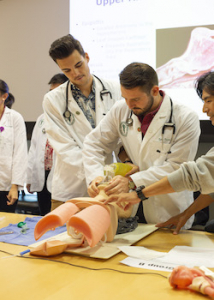 That experience led Thorne to the University of Hawaiʻi at Mānoa John A. Burns School of Medicine (JABSOM), where he is a fourth-year student with a commitment to improving healthcare to rural areas. That commitment has not gone unrecognized as Thorne has been chosen to receive the prestigious 2022 Excellence in Public Health Award from the U.S. Public Health Service (USPHS). The national award is presented annually to medical students who are public health champions advancing the mission to "protect, promote and advance the health and safety of our nation" and who are helping to address public health issues in their community.
"(My mother) had a delayed diagnosis due to the lack of providers and had to fly to another island for her treatment," said Thorne. "I believe that my medical education is a great opportunity and responsibility to serve and promote change in my community…these are all opportunities I could not have gotten at any other medical school."
Helping communities address healthcare issues
Thorne's work to address issues related to rural healthcare include an internship working with the Palau Ministry of Health and Public Health Department to investigate the use of telemedicine and provide suggestions for improvements, which were ultimately implemented.
As an active member of JABSOM's Rural Health Community Group (RHCG), he has taught fourth-graders about the dangers of tobacco and vaping ands led a series of healthcare career days to high school students throughout Hawaiʻi Island, Lānaʻi and Molokaʻi. This work inspired him to organize a healthcare career program at his alma mater, Honokaʻa High School, to expose the students to medicine and other jobs in healthcare.
Pursuing a Certificate of Distinction in Rural Health at JABSOM, Thorne has engaged in activism for bills impacting healthcare in rural communities. He spent a significant amount of his medical school training on rural islands and training in Federally Qualified Health Centers. From these experiences he co-authored a publication focused on the effectiveness of the RHCG in promoting medical students' interest in serving rural communities.
In addition, Thorne co-authored a journal article and a book chapter on the shortcomings of medical education in presenting racially diverse dermatological pathologies in textbooks. He recognized that the lack of diverse representation hurt patients due to skin concerns that were difficult to recognize due to the provider's unfamiliarity with common pathologies on dark skin. This prompted Thorne to lead a group of students in the construction of the online database, The Color of Skin, composed of images of skin conditions in racially diverse populations to be used as a learning resource and reference for UH students and physicians.
Currently, Thorne is doing a year of research at the University of Utah, focusing on orthopedic trauma as well as the genetic and cellular aspects of fracture healing. He will graduate from JABSOM in May 2023. His long term goals include returning home to provide orthopedic care for adults and children on Hawaiʻi Island while continuing research to improve clinical outcomes for surgeries.
Thorne joins an exclusive list of only five JABSOM students to have received the USPHS award, including Jester Galiza (2021), Kalei Hosaka (2020), Elisabeth Young (2018) and Brandyn Dunn (2014).