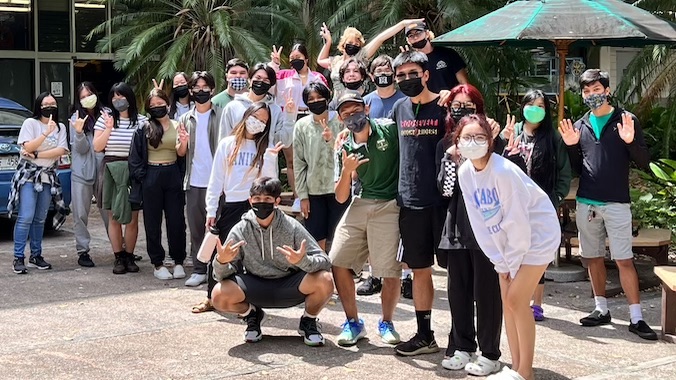 A free University of Hawaiʻi at Mānoa student-led summer program that helps incoming freshmen make a smooth transition from high school to college is marking its 10-year anniversary. The Hawaiʻi Undergraduate Initiative (HUI), coordinated by the UH Mānoa Office of Multicultural Student Services (OMSS), provides new students a supportive headstart and prepares them to become confident leaders as they embark on their undergraduate college experience. Sixty-one students are part of the 2022 HUI summer program, which runs July 5–August 12.
"HUI participants start their UH Mānoa fall semester with an advantage because they will already be familiar with the campus community, know about all the different support services available to them, and have 60 friends on campus!" said Adrialina Guerero, student support specialist of OMSS and HUI director.
Students take part in summer academic coursework, workshops, co-curricular activities and mentorship opportunities. Each student is assigned a foundational three-credit course (English 100, Ethnic Studies 101 or Educational Foundations 310), and participate in activities that focus on self-identity, communication, leadership and team/skills building. These activities are led by HUI peer mentors, who were former HUI participants. Representatives from various departments and support programs provide presentations to help them be successful and engaged students.
Current HUI participant and Roosevelt High School graduate Craig Jiang said he joined HUI without hesitation.
"I've been loving this program since the day I joined. This program allowed me to jumpstart my college experience, get to know the campus, and make new friends. I improved my social abilities through well-designed activities by the HUI staff and peer mentors and got to increase my knowledge by studying with a top-class instructor. For me, it is very important to attend college because I want to increase my academic level, learn new perspectives to view the bigger picture, and have a wider network with people," he said.
Former participants give back
"The success and beauty of HUI is that the program is mainly student-led and works like a self-sustaining cycle," added Guerero. "When students are part of a program that has made a positive impact on their college experience, they do not hesitate to give back to support and inspire others who are also following their same path."
When students are part of a program that has made a positive impact on their college experience, they do not hesitate to give back.
—Adrialina Guerrero
Second-year students volunteer to be peer mentors for the next incoming HUI cohort and third-year students volunteer to train the peer mentors. Students who would like to play a larger role are hired to be part of the HUI coordinating team, which involves overseeing all aspects of the HUI program from recruitment to planning the summer workshops.
"HUI academic instructors are graduate students who are committed to the program. They understand the students and communities that we serve and the challenges many face being the first in their family to attend college. The instructors make themselves available beyond the summer program should the students need guidance and support during their college journey," said Guerero.
Sara Kim, a BS candidate in biology and a 2019 HUI participant is now a student coordinator for the program.
"As a first generation college student, I had no idea what to expect when pursuing higher education, so I was relieved to hear that there was a program that was designed to ease the transition to college," she said. "Now, I have the privilege to give back to the campus community and help other students in their college journey."
The program is funded by the Office of Student Equity, Excellence & Diversity (SEED) led by Christine Quemuel, interim assistant vice provost for diversity and inclusion. More than 600 students have participated in HUI since the program's inception in 2012.
All incoming freshmen attending UH Mānoa in the fall semester may apply. Priority is given to students who graduated from a Title 1 high school, are first-generation and/or Pell Grant eligible (available to those who display financial need).
Visit the HUI website for more information.