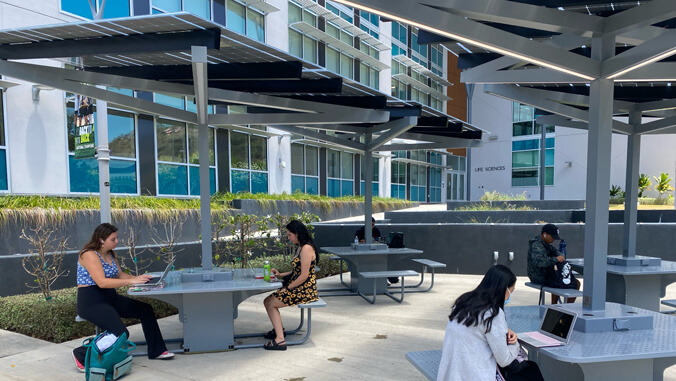 The Life Sciences Building, the newest facility on the University of Hawaiʻi at Mānoa campus, now features shaded outdoor space where students can study comfortably and charge their laptops and smartphones, day and night.
Five photovoltaic (PV) powered umbrella, table and bench systems have been installed in the building courtyard. Each system is designed to accommodate four people with four waterproof AC outlets, four wireless charging stations and lighting. The 9-kilowatt system includes self-sufficient batteries able to power twenty laptops at a time, no matter the time of day. One of the tables is wheelchair accessible.
The university is considering expanding on the $100,000 pilot project and providing similar outdoor study spaces on campus. Recent student surveys identified a desire for more outdoor study spaces with access to power.
The project is a modest step forward in the UH 10-campus system goal of net-zero energy by 2035. Net-zero energy is when the energy generated is more than the energy consumed. UH Mānoa completed installation of a PV array canopy over the lower campus parking structure in August 2022 that is scheduled to be fully operational by December 2022.