The Obama Foundation has selected University of Hawaiʻi at Mānoa and UH Hilo alumna Kealohakuʻualohakuʻupokiʻi Balaz for its prestigious scholars program. Balaz is the first person from Hawaiʻi to be selected for the program since its inception in 2018.
Balaz earned her doctor of nursing practice from UH Hilo's School of Nursing, executive master's of business administration from UH Mānoa's Shidler College of Business and bachelor's in nursing from UH Mānoa's Nancy Atmospera-Walch School of Nursing. She also holds a master's in nursing education from the University of Oklahoma.
The Wahiawā native and Leilehua High School graduate is currently the chief policy and compliance officer for Lunalilo Home, a facility that provides a variety of services for kūpuna, and a clinician (nurse practitioner) in the memory care clinic within geriatrics at Kōkua Kalihi Valley Health Center. Balaz previously served as the interim executive director of Lunalilo Home.
"UH has played an important role in my professional and individual growth. That's really where it started," Balaz said. "Being at UH, you really get to learn about yourself as an undergrad, as a grad student. I think going to UH really helped me enhance my passion or identify spaces where I want to connect."
I think going to UH really helped me enhance my passion or identify spaces where I want to connect.
—Kealohakuʻualohakuʻupokiʻi Balaz
Balaz added, "What I love the most is that there was never a glass ceiling. All of these experiences, with UH being at the foundation, have helped me to create a career that I never saw coming or that I never thought would lead me to become a scholar in this program."
Balaz also recalled taking courses at the UH Mānoa Kamakakūokalani Center for Hawaiian Studies on lāʻau lapaʻau (using herbs to heal).
"That really helped me as a clinician and culturally as a Native Hawaiian to really bridge the gap between cultural practices in health care and Western medicine, and look at a lot of the similarities," Balaz said.
Passion for
Hawaiʻi

's kūpuna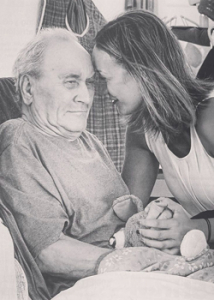 About a decade ago, Balaz returned home to care for her father who was diagnosed with Alzheimer's disease. This is what shifted her passion in healthcare to focus specifically on addressing issues involving Hawaiʻi's kūpuna, with a focus on Alzheimer's and dementia. Balaz sought assistance from the Hawaiʻi chapter of the Alzheimer's Association, became active in advocating for these issues and most recently served as the board chair.
Caring for her father and reflecting on the support she has received from her family growing up were some of the driving forces that inspired her to apply for the Obama Scholars program and continue the work she is doing for the community.
"When I found out, I started thinking about my parents and everything they have gone through to give me what I have, and my grandmother who was pivotal in my childhood. It all came together. When I was informed that I am the first scholar from Hawaiʻi, that made me feel so honored to represent Hawaiʻi," Balaz said. "The fact that I am a woman and Native Hawaiian, it just really felt surreal. …It changed my life."
Balaz is a member of the Native Hawaiian Health Advisory Board and the Policy Advisory Board for Elderly Affairs, holds numerous other board appointments and volunteers for various organizations, including Special Olympics Hawaiʻi. She is a recipient of the Alzheimer's Association's Aloha Chapter Advocate of the Year Award, the Pacific Business News 40 Under 40 award and Hawaiʻi Business Magazine 20 for the next 20 award.
Building new leadership skills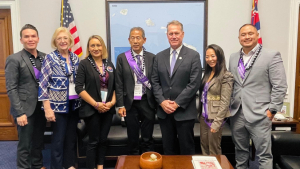 As part of the Obama Scholars program, Balaz will participate in a year-long robust curriculum for leadership by the Obama Foundation in conjunction with Columbia World Projects at Columbia University. Balaz said the program will help her to reflect on her work, refine her leadership approach and build her personal resilience as she creates action plans to bring home to her current roles in Hawaiʻi. She will also receive mentorship, an executive coach and networking opportunities.
"I hope to take everything that I learn and hopefully be able to create something that can better our communities and our future," Balaz said.
—By Marc Arakaki