New flexible and affordable parking options will be available at the University of Hawaiʻi at Mānoa in 2023, along with improved processes and a new user-friendly website. The new options include a daily parking pass that can be reserved in advance online and reduced rates for afternoon parking.
The goal of the changes is to, "better meet the changing needs" of the Mānoa campus and, "improve parking access, options and affordability," according to a November 7 email to the campus from the UH Mānoa Commuter Services.
New daily parking pass (students and employees)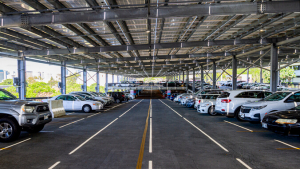 Starting January 4, 2023, students and employees will be able to purchase a limited number of daily parking passes online each week for the Lower Campus Parking Structure at a promotional rate of $4. Passes can be purchased online up to five days in advance. Passes are valid throughout the day with in/out privileges and can be used in any unreserved upper campus stall after 4 p.m. Daily passes are tied to a license plate and cannot be transferred. This predictable and flexible parking option is for students, faculty and staff who do not have to be on campus every day.
Parking for the Lower Campus Parking Structure will remain at $5 upon entry for those who do not purchase an online pass. The promotional $25 per day flat rate option for visitors will also remain in place until further notice.
Important: Cash will no longer be accepted at the parking kiosks starting January 1, 2023. Please plan accordingly.
Sign up for text message updates on parking closures.
More information on daily parking passes.
Student semester parking permits
Parking permits will no longer be mailed. Permits can be picked up at the Art Auditorium from Wednesday, January 4 through Friday, January 6. Free parking will be available at the Lower Campus Parking Structures on those days.
The process for reserving semester permits online has not changed. Payment for permits will now be accepted within 48 hours of reservation. Students still submit their permit reservations, prioritized by class standing, after registering for the next semester. Spring 2023 registration begins on Monday, November 14. More information on student semester parking permits.
Afternoon parking permits (students and employees)
As of November 1, afternoon permits (formerly known as evening permits), are available on a monthly basis for the Lower Campus Parking Structure and valid from 12 noon to closing. The afternoon permit is also valid on the upper campus after 4 p.m. and recommended for anyone who only comes to campus in the afternoon and evenings. More information on afternoon parking permits.
Visitor parking $1 per hour after 4 p.m.
Starting January 4, anyone can park in any unreserved stall on upper campus after 4pm for $1 per hour. More information on visitor parking.
If you are not sure which parking option is best for you, please reference this information chart for students.
Revamped Commuter Services website and text notifications
The website has been upgraded to make parking information easier to find. Students and employees are encouraged to sign up for text and/or email notifications to receive timely updates on available parking. (UH Login Required).