Kauaʻi Community College recently celebrated the dedication of a new photovoltaic system on its campus. The solar panel system, built by Greenpath Technologies, is part of the University of Hawaiʻi's ongoing commitment to increasing energy efficiency across its 10 campuses and moving toward its goal of net-zero energy by 2035.
"We gathered to celebrate the completion of the photovoltaic system, the realization of the UH direction to embrace renewable energy systems on our campuses, and to acknowledge the efforts of so many people to make this project a reality," said Joseph Daisy, Kauaʻi CC chancellor. "The college remains grateful for the continued support of our public officials, as well as our business and community members, for the important work the college does in partnership and service to Kauaʻi."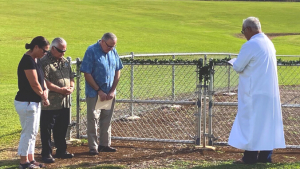 The initial $2 million investment for the project was provided by the Hawaiʻi State Legislature in 2019, and the groundbreaking was in May of that year.
"We are excited about this investment to ensure our campuses are generating renewable energy and meeting our sustainability goals," said Michael Unebasami, UH Community Colleges associate vice president for administrative affairs. "We would like to thank the Hawaiʻi State Legislature and Hawaiʻi Senate President Ron Kouchi for their support and providing the initial funding for this important project."
The PV system, which took four years to complete, is already providing energy cost-savings for the campus.
"Since July 2022, the PV system has generated a 30% reduction in electrical costs or approximately $20,000 a month reduction in its electric bill," said Kauaʻi CC Facilities Manager Patrick Watase."A better barometer in savings will be determined from the data of at least one year. PV production decreases due to shorter daylight and cloudy weather conditions during the winter months, so demand will increase. We currently turn on exterior lighting around 5:45 p.m. versus 7:30 p.m. during the summer months."
UH is committed to being a leader in renewable energy and has a goal to become net-zero, or produce as much energy as it consumes, by 2035, exceeding and in full support of the state's goals to be 100% renewable by 2045. The university's first rooftop system was built in 2009 at the UH Hilo campus. Its PV systems include: rooftop installations, parking shade structures and ground mount arrays. These projects are built through a portfolio of funding sources including capital procurements and power purchase agreements.
–By Lesli Yogi