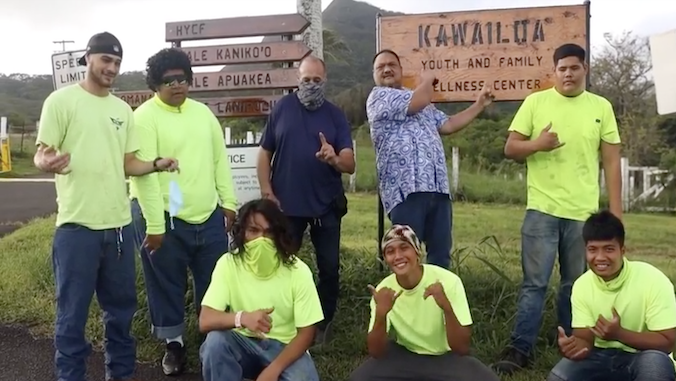 The traumatic effects of colonization, particularly the forced disconnection from Hawaiʻi's abundant ʻāina, which has led to complex, interconnected, health disparities seen today in Native Hawaiian communities and especially in the ʻōpio (youth), is the focus of new research from the University of Hawaiʻi at Mānoa Thompson School of Social Work & Public Health.
"Ke ala i ka Mauliola: Native Hawaiian Youth Experiences with Historical Trauma" was published in a special October issue of the International Journal of Environmental Research and Public Health called Mental Health of Indigenous Peoples.
Led by Lorinda M.N.M. Riley, associate professor of public health, the study builds upon prior work where Native Hawaiians articulated a collective feeling of kaumaha (heavy, oppressive sadness) resulting from mass land dispossession, overthrow of the Hawaiian Kingdom, cultural loss and early loss of loved ones.
Historical trauma research is critical to improving the wellbeing and future success of the next generation of Native Hawaiians.
—Lorinda M.N.M. Riley
"Historical trauma research is critical to improving the wellbeing and future success of the next generation of Native Hawaiians. Unfortunately, little work has been done exploring this issue among Native Hawaiians. I am very proud of our partnerships with the community as well as with other Indigenous scholars who were able to breathe life into our themes using ʻōlelo Hawaiʻi (Hawaiian language)," said Riley.
Using Indigenous methods in the design and implementation of this study allowed the researchers to better understand how Native Hawaiian ʻōpio experience and understand historical trauma. The researchers utilized community partners as co-collectors of ʻōpio perspectives and stories through 34 talk-story sessions that were conducted virtually.
The key findings indicate that Native Hawaiian ʻōpio experience historical trauma in a variety of ways, including through strong emotions that are difficult for ʻōpio to control; engaging in escapism; feeling ʻāina related harms; being caught up in messy systems; experiencing internal family, and community conflict; and feeling like certain things are not meant for them.
Participants included 19 Native Hawaiian ʻōpio between the ages of 15 to 24, all of whom either interacted with the juvenile justice system or experienced symptoms of poverty, periodic sadness, anger, anxiety, distrust of the intentions of those in power, used controlled substances or had family members with substance dependency. Participants also included lawelawe (service providers), such as school psychologists and counselors, correctional facility staff, child welfare service investigators, judiciary and juvenile probation staff and social workers who work directly with Native Hawaiian ʻōpio, as well as two Hawaiʻi state legislators.
"Understanding historical trauma is the first step to healing this trauma and improving wellbeing for our Native Hawaiian youth," said Riley.
Exploring future studies
Despite the significant impacts that historical trauma has on Native Hawaiian Hawaiʻi, many expressed pride in their identity and provided multiple hopeful statements about their future. Suggestions for future studies include exploring Native Hawaiian experiences with historical trauma across the lifespan, creating a scale to measure Native Hawaiian historical trauma and curriculum that incorporates Hawaiian cultural practices, healing to build pride and fluency for all Hawaiʻi, including non-Hawaiians.
Additional findings include providing ʻōpio with support through their communities and trauma-informed policies that incorporate healing historical trauma can help them grow over time into sustainable, productive and nurturing beings. This research adds to the growing literature and "calls on the Legislature to support efforts to mitigate the effects of historical trauma."
Co-authors on the paper included other faculty from UH Mānoa: Anamalia Suʻesuʻe from the Department of Psychology, Kristina Hulama from the Department of Social Work, Scott Kaua Neumann from the Department of Philosophy and Jane Chung-Do from the Office of Public Health Studies.