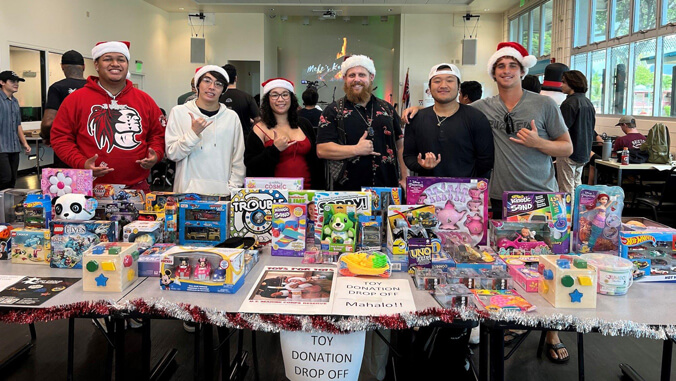 Honolulu Community College music students combined holiday performances, philanthropy and fun for a final class project event that was enjoyed by a crowd of more than 100 attendees. The Music & Entertainment Learning Experience (MELE) program presented its annual MELE's Kalikimaka in-person event on December 5, after a two-year absence due to the COVID-19 pandemic.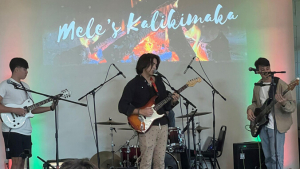 Produced by the MELE 205 concert and event production class, this year's MELE's Kalikimaka featured performances by Hawaiʻii's rising musical stars including PK DREAMZ, Dominic Carlos, JULÉ and Backset, and a Polynesian dance exhibition from Mele Luau. The students planned and produced the event as an immersive final project and collaborated with MELE engineering students for audio and tech support.
"MELE's real-world curriculum and projects helped me understand various career opportunities in the music and entertainment field," said Autumn Reynolds, a MELE 205 student. "I also made valuable connections with my fellow students, industry professionals and community organizations."
MELE's Kalikimaka partnered with Toys for Tots to collect holiday donations. The organizers received more than 100 new toys for keiki.
More about MELE
The MELE program utilizes a comprehensive music business and production curriculum meeting the requirements for entry-level training of music industry and production professionals. The curriculum focuses on combining academic experience with real-world applications to prepare students to work in the rapidly evolving global music industry of the 21st century. The program core offers a rounded curriculum grounding students in the basics of the music industry, sound recording and the business of music.
There are two degree paths—the associate of science in music and entertainment business and the associate of science in audio engineering technology. A degree may be earned during a four-semester sequence.