The University of Hawaiʻi Community Colleges and leaders from the state's top business sectors announced on January 30, 2023, the official launch of Good Jobs Hawaiʻi, a $35-million workforce development initiative. Good Jobs Hawaiʻi will build career pathways for up to 3,000 local residents by providing free skills training and job placement support for high-demand, well-paying jobs.
In a coordinated effort with more than 70 employers, the UH Community Colleges are offering free skills training in the following high-demand industries: healthcare, technology, clean energy/skilled trades and creative industries. Employers from these sectors are identifying needed positions and the UH Community Colleges are providing the career pathways to these in-demand jobs through free skills training and support.
Good Jobs Hawaiʻi is building on Oʻahu Back to Work and Hana Career Pathways, the two previous UH Community Colleges workforce training programs that have provided free skills training for more than 4,000 Hawaiʻi residents since the start of the COVID-19 pandemic.
"The University of Hawaiʻi is committed to helping kamaʻāina get quality jobs by providing education and career training," said UH President David Lassner. "This partnership provides pathways that match what local businesses and industries are looking for right now in their workforce."
Interested participants can apply at goodjobshawaii.org.
Committed local businesses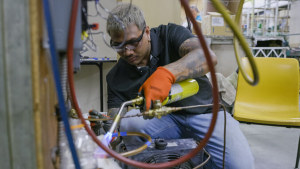 More than 70 businesses have already committed to participate in the initiative. Businesses are invited to join the partnership coalition to help identify positions that need to be filled, co-design training opportunities and prioritize our local workforce in hiring and advancement. Employers statewide can join the Good Jobs Hawaiʻi coalition by signing a Talent Action Pledge online as a first step.
"Good Jobs Hawaiʻi will equip people with the skills they need to get good jobs—jobs that provide economic stability, economic mobility, and a sense of purpose and respect," said Keala Peters, Chamber of Commerce executive vice president, Education and Workforce Development. "With the current labor shortage, employers are coming to the table to accelerate efforts to build equitable pathways to quality jobs for residents."
Funding for the program comes from multiple federal, state, county and philanthropic resources, including $16.4 million over the next three years from the U.S. Economic Development Administration. In addition, Good Jobs Hawaiʻi will support the training and wraparound support costs for participants and leverage various federal and state programs administered under the Department of Labor and Industrial Relations Workforce Development Division.
Health sector success
The health sector has already had success filling needed positions by coordinating with the UH Community Colleges on workforce training. Ohana Pacific Health Chief Executive Officer Wesley Lo emphasized the importance of workforce development efforts in providing essential workers for their skilled nursing facilities.
"With the recent earn and learn glidepath for CNAs to become LPNs, our nurses can continue to work while in school, enabling them to provide for their families while advancing their career to earn a living wage," said Lo. "We're grateful for this collaboration and the Good Jobs initiative that supports employers by directly addressing staffing."
Lassner noted that "This demonstrates our commitment to the imperatives of our new UH System Strategic Plan 2023–2029 – Hawaiʻi's University for Today and Tomorrow, one of which is to meet Hawaiʻi workforce needs of today and tomorrow. We will address the full spectrum of needs from workforce training programs such as Good Jobs Hawaiʻi, to the many well-paying jobs that require 2-year, 4-year and graduate degrees available across our 10 UH campuses."
Widespread support
Good Jobs Hawaiʻi partners currently include Chamber of Commerce Hawaiʻi, Healthcare Association of Hawaiʻi, the Hawaiʻi State Energy Office, and the Hawaiʻi Department of Business, Economic Development and Tourism. Informational sessions for participants and employer partners are planned for February and March.
Support for the Good Jobs Hawaiʻi initiative is provided by various government and philanthropic organizations including the U.S. Economic Development Administration, the U.S. Department of Education, the City & County of Honolulu, Ascendium Education Group, the Harold K.L. Castle Foundation, the Hawaiʻi Community Foundation, and the Hawaiʻi Workforce Funders Collaborative.