The first cohort of University of Hawaiʻi at Mānoa faculty members celebrated their completion of the Association Of College And University Educators (ACUE) course on improving gateway courses after completing a recent professional development program. A pinning ceremony was held January 27, where participants also received a Certificate in Effective College Instruction and a UH Mānoa certificate of appreciation.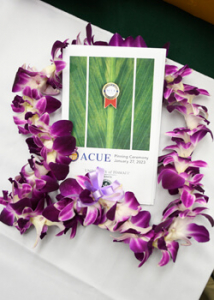 The 46 faculty members, including one graduate student, represented 42 academic units. Through the ACUE program, they had the opportunity for extended reflective internal processes on their independent teaching and learning practices, specifically for gateway courses. Gateway courses are those that departments require students to take to effectively enter into that discipline's field of study.
The ACUE course provided specific frameworks for:
re-designing courses and classes
establishing productive learning environments through innovative active learning techniques
experiencing students engaging in higher order thinking
assessing their teaching outcomes
"Independent studies demonstrate that greater numbers of students earn better grades and complete courses when taught by ACUE-credentialed faculty," said Kathleen Kane, director of the Office of Faculty Development and Academic Support. "For Mānoa faculty to have added this course to their substantial responsibilities and commitments signifies a depth of dedication to the teaching profession, and ultimately to their students for whom passing these courses is so consequential to their academic career and where students initially encounter challenges and struggles."
According to ACUE research, ACUE teaching methods help all students succeed with fewer students withdrawing from college, more passing their courses and more passing with higher grades. Those students continue to succeed after taking those courses, due to effective teaching practices that instill lifelong learning and self efficacy.
Expanding teaching practices already helping students
"It made me think about how much there was to learn and consider to make a successful class that maximizes student success."
—Christopher Muir
Faculty participants were surveyed throughout the course, and responses showed that 98% of the cohort found the ACUE content engaging and relevant to their work. Participants acquired on average 60 brand new teaching practices, enhanced their prior knowledge by 100 additional practices, and implemented at least 13 practices with plans to implement 65 more.
For Christopher Muir, assistant professor of botany, the ACUE course helped him find additional strategies to think from the students' perspective. Explaining the method and direction of an assignment is just as important as its content. He has already seen improvements in his students and their approach to their studies.
"It's made students a lot more understanding of why we are doing things a certain way," he said. "It made me think about how much there was to learn and consider to make a successful class that maximizes student success."
EunBin Suk, a graduate student in American studies, said the ACUE course was a critical learning experience that helped her in her role as a new instructor.
"ACUE helped me to get a lot of ideas, and to know what to expect when I go into a classroom so I can be prepared," she said. "Having this team of people in my cohort, going through the ACUE certificate program together, looking at their feedback and listening to what they have to say was really helpful. I would totally recommend it especially to fellow grad students and think this should be implemented to the PhD students who are teaching."
Next steps
The ACUE course remains open to the members of the cohort as a resource they can continue to consult for their classes. This cohort concludes the first year of a three-year grant from ACUE that focused on the two-semester ACUE Effective College Instruction course for faculty teaching UH Mānoa gateway courses. In 2023–24, the ACUE Effective College Instruction course will be followed by data collection by ACUE and Mānoa Institutional Research Office on course outcomes and student success.
According to Kim Middleton, the ACUE academic strategy consultant who worked with the UH Mānoa team, the work done by this cohort has the potential for far-reaching results.
"What you're doing and what you have accomplished thus far is important at UH, but it also has impact across the nation because you're part of this larger project," Middleton said at the pinning ceremony. "We know that everybody who works in higher education needs to be better at learning how to support students from a wide variety of backgrounds and abilities, and very few universities are as attentive to that mission as you are…Your colleagues at many campuses are waiting to hear more about your experiences."
For the UH Mānoa ACUE participants, Kane believes they feel renewed in their perspectives on teaching. "The word 'transformative' has been used frequently by faculty who participated in the course," she said. "An exquisite indication that what we hope for the faculty has been realized."