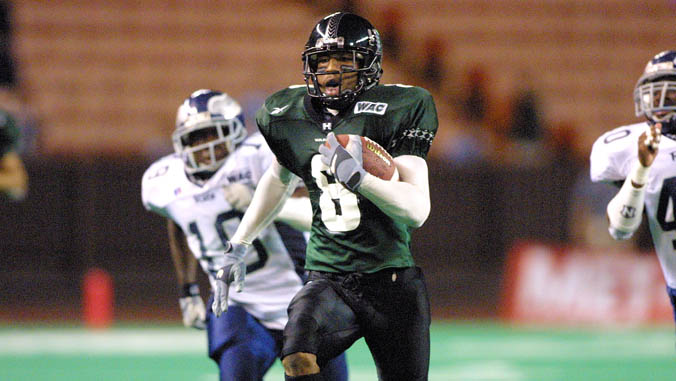 Former University of Hawaiʻi football star Ashley Lelie has agreed to serve on UH Mānoa Athletics Director Search Advisory Committee.
Lelie played wide receiver for the Rainbow Warriors from 1999 to 2001 and was drafted in the first round of the 2002 NFL draft by the Denver Broncos. He played 7 years in the NFL as a wide receiver for the Broncos, Atlanta Falcons, San Francisco 49ers and Oakland Raiders. After his pro career, Lelie served as an assistant football coach at the University of Nevada and Alabama A&M and as a student manager at UH when he returned to Hawaiʻi to finish his degree.
Leile earned a BA in history and an MBA in business administration at UH Mānoa, where he is currently nearing completion of an MS in tropical plant and soil sciences. He is a successful businessman in egg production and nursery crops on Oʻahu. Lelie is a graduate of Radford High School, where he was a three-sport standout athlete prior to enrolling at UH Mānoa.
"Ashley was recommended by a UH faculty member who had been following the news about the committee," said UH President David Lassner. "I was delighted to meet him and he indicated he would be honored to serve."
The other committee members are:
Michael Bruno, UH Mānoa provost (committee co-chair)
Susan Eichor, aio president and chief operating officer (committee co-chair)
Laura Beeman, UH women's basketball head coach
Albert D.K. Chee, vice president of retail marketing and community relations for Island Energy and former chair,

ʻAhahui

Koa Ānuenue
Sabrina McKenna,

Hawaiʻi

Supreme Court associate justice and former UH student athlete
Scott Sinnett, UH Mānoa faculty athletics representative and professor of psychology
Charlie Wade, UH men's volleyball head coach
Friday, March 10 is the deadline to submit applications for best consideration. Applications beyond the deadline will continue to be accepted until the position is filled. After March 10, the eight-person search advisory committee will begin reviewing applications and determine potential interviews, scheduled to take place in March and April. The committee will present Lassner a short list of finalists and he is expected to make a recommendation to the Board of Regents at the May 18 board meeting.
"The attention being drawn to this search advisory committee is unprecedented," said Lassner. "We hope that all of those showing passion are also encouraging every qualified applicant they know to apply. Our student athletes, the university and the community will benefit from the best competitive pool of highly qualified candidates. And we trust that those with the greatest passion will rally together to support the success of our next athletic director, which is the success of our student athletes and the only major athletic program within 2,000 miles of the people of Hawaiʻi."
The nationwide search was announced on February 15 and the position description, list of search advisory committee members and timeline are publicly posted on the UH Mānoa Executive Search website with instructions on how to apply. The UH Mānoa Director of Athletics oversees 21 intercollegiate sports and related facilities that supports the academic and athletic success of about 450 student athletes each year.