February was national Career and Technical Education (CTE) Month, and a highlight for Leeward Community College was when Gov. Josh Green proclaimed it to be "Career and Technical Education Month" in Hawaiʻi.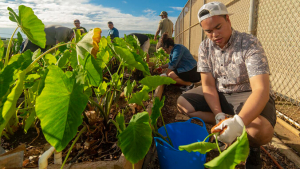 "Hawaiʻi is experiencing a workforce shortage in crucial fields like healthcare, technology, skilled trades, agribusiness and creative media," said Green. "Our administration is grateful to Leeward Community College for its Career and Technical Education, and Office of Continuing Education and Workforce Development programs, which prepare students for highly needed jobs for Hawaiʻi, now and into the future. This proclamation recognizes Leeward's contributions toward the career success of future generations, so they can continue to live and raise families here at home."
Youth and adult learners in CTE programs tend to be more engaged, graduate high school at higher rates, earn industry-recognized credentials, and go on to have lasting careers. Leeward CC had 1,673 postsecondary CTE participants out of the 6,523 in the state for the 2020–21 school year.
Ron Umehira, Leeward CC's dean of career and technical education was among the 15 invitees to the signing ceremony.
"We are grateful that Governor Green understands the importance of CTE Month as a public awareness campaign to celebrate the value, rigor and relevance of CTE and workforce development programs that we offer our students," Umehira said.
Leeward CC's CTE celebration
At Leeward CC, several events highlighted how CTE programs educate students to become college and career ready, preparing them for high-wage, in-demand career fields.
CTE programs were on display in the Learning Commons/Library throughout the month.
Volunteers, from within the campus and the community, offered free tax services for the community through the Volunteer Income Tax Assistance Program.
Leeward CC's Culinary Arts Program hosted a demonstration and Q&A session by Chef Melissa Miranda of Musang Seattle.
Leeward CC's Sustainable Agriculture and Culinary Arts programs hosted a Louisiana Crawfish Boil. This event featured presentations by the

Oʻahu

Invasive Species Committee and guests from Louisiana representing Fletcher Technical Community College and Chefs Brigade. After the presentations, Chef April Bellows and Leeward CC culinary students prepared the crawfish boil and several cajun/creole dishes for faculty and staff to enjoy.
CTE Showcase, a free community event at

Waiʻanae

Moku, featured activities and informational booths hosted by Leeward CC's CTE programs.
More information about CTE programs at Leeward CC can be found at www.leeward.hawaii.edu/programs.