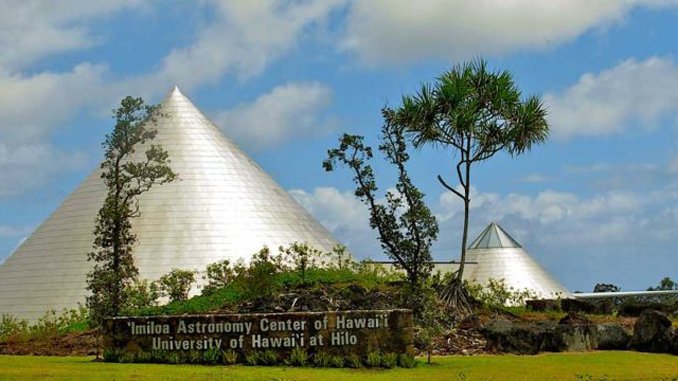 ʻImiloa, a world-class center for science education located on the University of Hawaiʻi at Hilo campus, is joining the 2023 Merrie Monarch festivities with special enrichment workshops and presentations April 12–14, including hula and music, the art of pahu (drum) making, and lauhala and lei workshops.
"We're delighted to host another year of Merrie Monarch programs at our center for the Hawaiʻi community and for those who are visiting Hilo for this internationally acclaimed festival," said ʻImiloa Executive Director Kaʻiu Kimura. "We have a diverse offering of programs this year in the mornings and afternoons that we're sure will be of interest to all ages."
All active UH Hilo students who have signed up for a free ʻImiloa student membership can receive a discounted rate for all of the programs. Students can stop by the center Thursday–Sunday, 9 a.m.–4:30 p.m. to sign up for a membership at the guest service desk.
A full list of Merrie Monarch Cultural Enrichment Program offerings is available on ʻImiloa's website. A reduced special programming fee is available to members.
Purchased tickets for any Merrie Monarch enrichment program also includes same-day general admission access to ʻImiloa's Exhibit Hall and Planetarium programs.
Seating is limited. Due to the popular demand for cultural programming, visitors are strongly encouraged to make online reservations prior to visiting ʻImiloa. Walk-ups will be accommodated based on a first-come, first-served basis.
In addition to Merrie Monarch Cultural Enrichment Programming, ʻImiloa is hosting "The Science of Kapa" traveling exhibit in the exhibit hall through June 4.