From tiny seeds grow mighty trees! ʻAiea Intermediate students learned how valuable they are as the next generation in the islands during a tour of the University of Hawaiʻi at Mānoa Campus Arboretum on April 5. Hosted by the UH Mānoa Admissions office, the students delved into arboriculture and higher education opportunities at UH.
For the
ʻAiea
ahupuaʻa
As part of their project-based learning, the students are inspecting and analyzing the trees on their own campus and finding ways to improve them. To discover which traits would be most beneficial, the students learned about the UH Mānoa arboretum's native and non-native trees.
"It feels good to be doing a project like this for ʻAiea," said seventh grader Alya Hasan. "I'm doing something great for my school and for my community."
Tour guide Noweo Kai, UH Mānoa Campus Arboretum curator, offered valuable information on trees in a campus setting and posed considerations for the students, such as how the plants can affect Hawaiʻi or celebrate Hawaiʻi's endemic plants.
"The students know the impact they have on their community right now," said Kai. "The Campus Arboretum serves as an example for them to learn from. Both the UH Mānoa and ʻAiea Intermediate campuses have the same considerations for our island."
The ʻAiea Intermediate project is led by teachers Sherry Cassetta and Laurel De Ponte and gives students a chance to learn about trees in a more impactful way. It is part of a larger EPA-funded project measuring and identifying ways to mitigate the impact of urban heat islands (built environments that retain heat) undertaken by the nonprofit Trees for Honolulu's Future.
"Through this project, students gain knowledge about Hawaiʻi plants and help their community while practicing Hawaiian values of kuleana (responsibility), mālama (care), lōkahi (cooperation), which are relevant in any culture and place," said Cassetta. "In December 2022, the students prepared 80 milo seedlings—some will be put in the ground, but others will be shared with the ʻAiea ahupuaʻa."
Planting the seed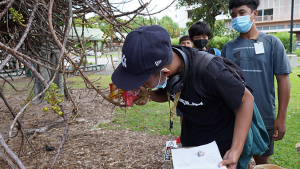 Although the students delved into the impact they have on their school and community now, they also gained insights into careers in arboriculture and the value of higher education.
Roxanne Adams, director of Buildings and Grounds at UH Mānoa, shared her story of her desire to study plants, especially plants in Hawaiʻi, and how plants can be incorporated into many career paths, from art to architecture and engineering.
"It was great for the students to tour the Campus Arboretum, not only because we have a huge collection of plants for them to learn from, but because they got to be on a college campus and know that they can receive a good education right here in Hawaiʻi," said Adams.
Seventh grader Michaela Whaley shared her excitement in pursuing higher education.
"Plants and gardening could be part of one of my future careers and I really want to attend college to pursue that," said Whaley. "I might possibly come to UH!"