As she prepares to graduate from Leeward Community College with her associate in arts in liberal arts this May, Sara Gaspar is grateful for the opportunities provided at Leeward CC's Waiʻanae Moku Education Center and the support of her loved ones during the most difficult times of her life.
Gaspar battled substance abuse and alcoholism from a young age, and things became even more difficult when she got pregnant at 17 and had to drop out of high school. While raising her child, she had to work full time but managed to get her GED when she was 22 years old. Despite this positive step toward stability, she still couldn't overcome her addiction and was dealt a heavy blow when both of her parents and her older brother passed away within a two-year span.
It wasn't until she had a near death experience a few years ago that she said "enough is enough. I needed to make some kind of positive change in my life. I quit drugs and decided to seek support from Malama Recovery. I was in this program for six months and graduated on October 18, 2016."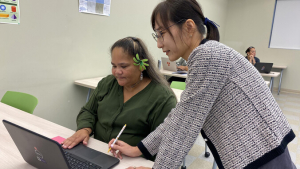 A few years later, with the support of her husband, she decided to give college a try. The first in her family to attend college, Gaspar excelled with a 4.0 GPA and will be graduating with honors.
"I want to thank my peer mentors, Alaysia Kyle and Tammy Aiwohi…also, (Associate Professor) Rick Kang and (Waiʻanae Moku Coordinator) Danny Wyatt, for making me feel loved and welcomed since the moment I stepped foot on that campus," said Gaspar.
She plans to pursue a bachelor's degree in public administration focused on healthcare administration at the University of Hawaiʻi–West Oʻahu. Gaspar grew up helping her mother care for an elderly woman, before she ended up taking care of her own parents, and she plans to serve the elderly community after earning her next degree.
UH spring 2023 commencement schedule
"I want them to know that there are individuals like me who are passionate about caring for their needs. They were there for us—we should give back and be there for them," said Gaspar.
Achieving her associate's is surreal for her but it was never beyond Gaspar's reach. She wants everyone to know that if she could do it, they can too, "keep learning, keep trying…keep venturing on through your journey. Discover who you really are. And, remember that every moment is an opportunity to learn from everyone around you."
Leeward CC will celebrate its spring commencement May 12, 5 p.m. at the Tuthill Courtyard, Puʻuloa Campus.