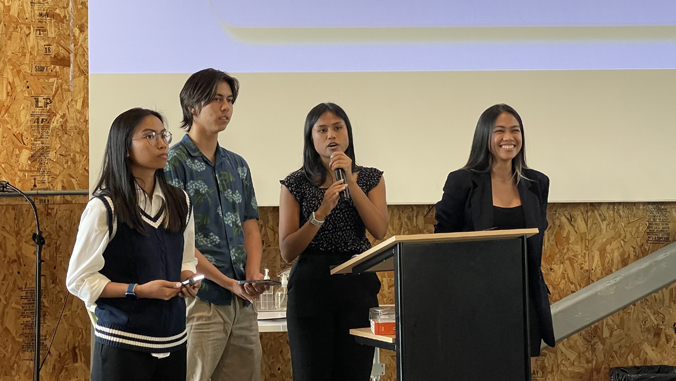 Two University of Hawaiʻi at Mānoa student-led projects have been selected to receive funding from the U.S. Department of Defense that will support additional resources, travel and more, for further testing and development.
The innovative solutions showcased on May 5, at The Entrepreneurs Sandbox will help to mitigate increasing condominium maintenance fees, expand access to mental health services and streamline flight scheduling for defense missions.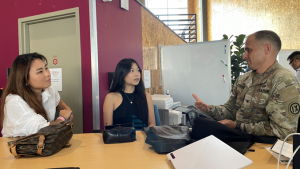 The projects were developed by junior and senior undergraduate or graduate UH students through the successful Hacking for X (H4X) program. Designed as a "flipped classroom," students work in multidisciplinary teams to learn and apply the Lean Startup methodology used by entrepreneurs and businesses nationwide. Throughout the semester-long course, students engaged with program partners, mentors and advisors as well as conducted a minimum of 50 stakeholder interviews to develop, validate and iterate a minimum viable product or viable solution to a real-world problem.
"Our H4X program has been extremely successful in educating students to be critical thinkers, effective problem solvers and meaningful contributors to a knowledge-based society by applying their academic rigor to real-world scenarios," said Vassilis L. Syrmos, UH vice president for research and innovation. "This program has allowed us to strengthen our collaborative partnerships and we welcome other organizations to participate in this program."
Spring 2023 UH H4X projects
BH4ALL developed standard operating procedures (SOP) to help the U.S. Army 25th Infantry Division to develop and test a system and workflow that would allow them to provide tele-behavioral health services to soldiers while deployed for training or combat. Currently, soldiers do not have access to tele-behavioral healthcare options while deployed. As a result, many soldiers deny or delay mental health treatment, often worsening symptoms and long-term effects such as post-traumatic stress disorder. The students tested their pilot SOP and tele-behavioral health services with troops training in the Philippines and received positive end-user feedback. The project qualified for NSIN's X-Force program, where summer interns will continue to test and refine the development of the proposed SOP for potential, future implementation. Team: Cole Amparo, Justin Loi, Simone Peers, Kirsten-Elise Rensaa and Israel Sagapolutele
Team Taking Flight also worked with the U.S. Army 25th Infantry Division on improving its flight scheduling system, which currently utilizes various excel sheets to organize availability, experience and aviation needs of each of its five, 20-member platoons. The students researched and identified existing apps to help consolidate and expedite its data review and scheduling procedures. This project has also qualified for X-Force and will be further tested and developed over the summer. Team: Joshua Constantino, Thane Luna, Shane Rogge, Sola Takahashi and Larissa Tsai
FICOH for the People worked with First Insurance Company of Hawaii (FICOH) to address increasing deferred maintenance costs for rampant water damage repairs in aging condominium buildings, the number one source of insurance claims and top driver of insurance premiums. The team developed an educational website and app to provide property managers, condo board members, owners and insurance companies with access to interactive training videos and quizzes to be able to identify signs of water damage in order to address repairs sooner. Team: Rockwell Adolpho, Edalaline Cadiena, Cole House, Nayoung Kim, Michelle Cherish Leano, Jeraldine Milla and Kaizlee Yoshikawa
"It was a pleasure to work with the team that FICOH sponsored," said FICOH Risk and Safety Management Supervisor Dean Estabilio. "The challenge that the students faced was a complex one that required reaching for solutions that were out of the box. The approach and concept is a significant step forward in achieving their goal of solving the ongoing problems of water damage due to deferred maintenance. I believe that the experience gained from this problem solving project will benefit their personal and professional growth in the years to come."
More on H4X
Launched in spring 2021 in partnership with the U.S. Department of Defense National Security Innovation Network through its Hacking for Defense® program, H4X has allowed the university to collaborate with multiple military branches throughout the state on addressing various defense-related challenges as well as environmental non-profit organizations and private industry partners.
H4X is housed in the UH Office of Innovation and Commercialization and is among several programs designed to engage students, faculty and program partners in innovation and entrepreneurship. For more information about the H4X program, visit the H4X website.