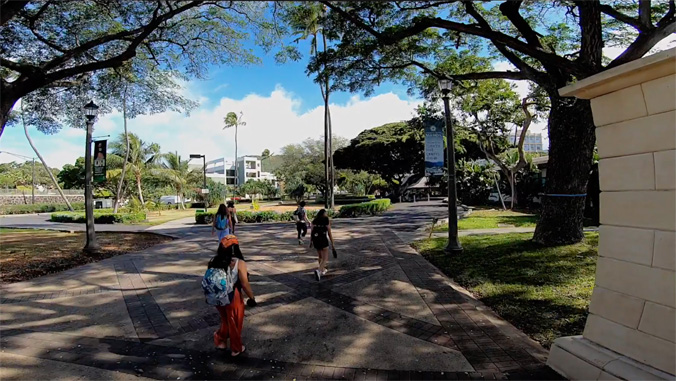 A University of Hawaiʻi at Mānoa pilot program to assist freshmen and other students struggling academically was launched in the spring 2023 semester. About 50 students participated in the "Just In Time Mentoring" program by the UH Mānoa First-Year Programs, which identified students whose grades dropped from semester to semester and offered them mentoring and other resources.
"We want students to know that they aren't alone and that UH Mānoa cares about them," said Kyle Van Duser, the director of First-Year Programs. "We know that students are coming from all sorts of locations and backgrounds, and college is a new environment and experience, so we want to ensure that they're transitioning well. We're always here to help."
The program participants were assigned to a student peer mentor who met with them individually. The mentors also communicated with professors to determine how best to support the students academically and, when needed, referred them to other available services and resources. Perhaps most importantly, the mentors were there to listen and empathize.
We want students to know that they aren't alone and that UH Mānoa cares about them.
—Kyle Van Duser
"Meeting with Kevin Hearty, who is a kinesiology student, was refreshing knowing that I was on the right pathway and receiving guidance on the classes that I should be taking," said freshman Isabela Terrazas about her mentor. "He helped me navigate through the challenges that occur during the first year of college. The mentoring program was a great way for me to discover the resources that are available on campus to help me succeed."
"My mentor, Albert Yee, helped me prepare for a course that many students struggle with in my major by providing resources and mentioning what classes would be helpful," added student Cody Lau.
Program gets funding boost
The pilot program received a boost from the Associated Students of the University of Hawaiʻi, which provided $10 gift cards to students to encourage participation. The mentors are paid positions funded by the Office of the Associate Vice Provost for Student Academic Success.
"We are in the process of evaluating the success of the program and plan to continue it next academic year," said Van Duser. "The goal of my office is to improve the student experience and, subsequently, our retention and graduation rates."
The First-Year Programs also offers the Access to College Excellence (ACE) program every fall semester. ACE is designed to assist first-year students' transition to college through building personal connections with other students in the same transitional phase as them.