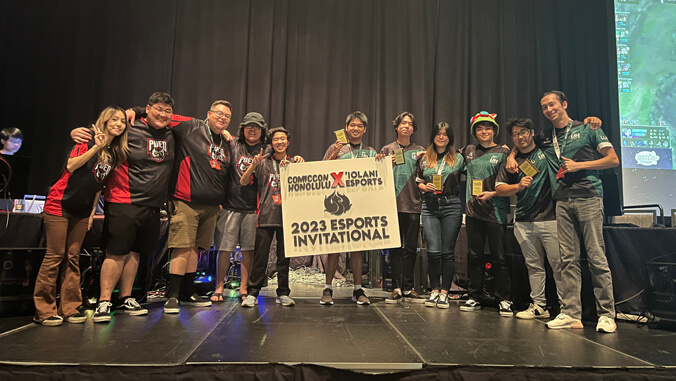 To build momentum into the fall 2023 semester, the University of Hawaiʻi at Mānoa and UH West Oʻahu esports programs participated in an esports competition at Comic Con Honolulu, a gaming, movie and TV event at the Hawaiʻi Convention Center in early August. An estimated 7,500 people attended the three-day event.
UH Mānoa and UH West Oʻahu entered six teams in League of Legends, Valorant and Super Smash Bros. for the tournament, which featured the best high school and college teams in Hawaiʻi. UH teams dominated all three games, coming out on top for each.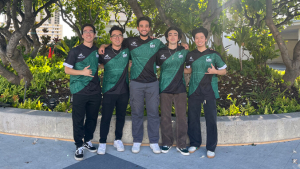 "I had the pleasure of coordinating our teams and supervising. It was such a fantastic opportunity to see our local community and build the connection between UH Esports and our local high schools and other colleges," said Madeline Gilbert, a UH Mānoa student and UH Mānoa esports player support coordinator. "I look forward to supporting K–12 esports and expanding the con."
UH Mānoa's esports Program Director Nyle Sky Kauweloa said it was the first year Comic Con hosted an esports tournament.
"Overall exposure to the schools to showcase UH's teams was really a fantastic thing for us," Kauweloa said.
Garrett Lau, president of UH West Oʻahu's Pueo Gaming, said he was proud to bring his teams to Comic Con.
"I was amazed about how far we've come and how much talent teams from Hawaiʻi have," Lau said. "Comic Con is a really important milestone for esports in Hawaiʻi by having their first ever scholastic invitational and being one of the stepping stones for a brighter future in esports here on the islands."
Learning from pro esports player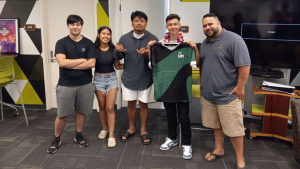 Also in early August, UH Mānoa's esports program hosted Dillon "Attach" Price of the Version1 + Minnesota RØKKR team (a professional esports organization with teams in Call of Duty League, Rocket League and Valorant). UH Mānoa's Call of Duty team spent an hour learning about Price's journey into the ranks as a professional Call of Duty player. At 26, Price is nearing retirement as a professional esports player, and Kauweloa and Price discussed his future and the possibilities of returning to college.
UH Esports is currently recruiting for its esports teams for the 2023–24 academic year. If you are interested in trying out, visit the UH Esports Twitter and Discord pages, or email uh.esports@hawaii.edu.
UH Esports receives substantial funding from the Academy for Creative Media System. More stories on UH's esports program.
—By Marc Arakaki