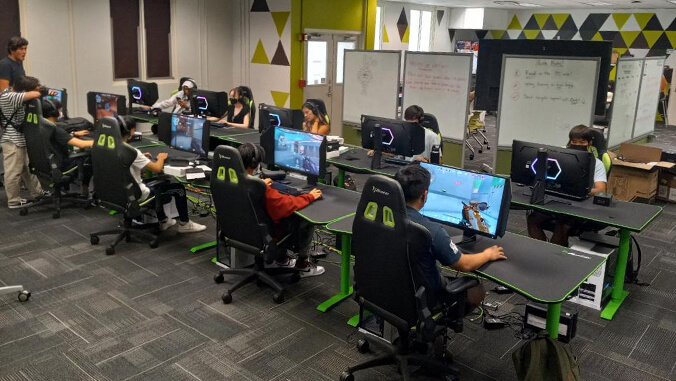 University of Hawaiʻi at Mānoa's esports program has quickly emerged as one of the top in the nation, and its facility is now a popular destination on campus. This semester, the lab opened free of charge to all members of the UH Mānoa community.
The response has been overwhelmingly positive. The facility near Kuykendall Hall and the Art Building draws approximately 40–80 people daily and regularly has a line before it opens in the morning. The program announced the change at the beginning of fall 2022 through its esports team members, through a registered independent organization called Mānoa Academy of Gamers, and on Discord, one of the main methods of communication among gamers across campus.
"I think it's amazing," said Alie Wolpo, a UH Mānoa esports member and iLab program assistant. "I really pride myself on the community, especially as a community and team leader. To see that we have so many students who are not a part of our program in any official capacity that love gaming and esports so much that they can come here and feel safe in our location to come, game and learn about esports, and to meet other people who are interested in esports, that's awesome."
How to use the iLab
The iLab is open to UH Mānoa students, faculty and staff weekdays, 10:30 a.m.–6 p.m. All users must sign in and out with their UH email address by scanning a QR code at the entrance. Users are welcome to bring their own consoles and equipment can be rented out.
According to Wolpo, people that come in play a variety of games such as League of Legends, Valorant and Call of Duty, while others stream professional esports events or just hang out and eat lunch.
Recruiting for esports teams
UH Mānoa's esports teams have partnered with the Mānoa Academy of Gamers to grow the gaming community on campus. The esports programs have also networked with those who have visited the facility as a recruiting tool for their competitive teams.
UH Mānoa has been nominated for the best collegiate esports program of the year award for the second consecutive year, and its team leader, Nyle Sky Kauweloa, has been nominated for the collegiate esports ambassador of the year award. Vote for the team and Kauweloa on the Esports Awards website until November 30.
More stories on UH's esports program
Kauweloa said that while he is trying to grow the community of gamers across campus, he is also pushing new curriculum initiatives on the academic side of esports—an industry which is projected to reach $1.38 billion in global esports revenue in 2022, up from $1.08 billion in 2021. UH Mānoa now offers an internship credit course for students who volunteered during the Overwatch League tournaments, and Kauweloa also helped launch a three-course esports series in the College of Social Sciences.
"Opening up the esports iLab for the fall to the students at UH Mānoa has shown that our location is serving students to build community right in the middle of campus," Kauweloa said. "Students are knocking on our door as early as 8 a.m., and are staying as late as 9 p.m. The UH esports program is now serving a broader set of students beyond our competitive teams at UH, and I am delighted to see the positive feedback."
Visit the UH esports team's Twitter and Discord pages.
—By Marc Arakaki