A Welcome Message from the Director of University
Health Services Mānoa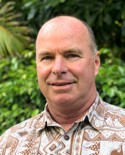 Andrew W. Nichols, M.D.
Aloha and welcome to the University of Hawaiʻi at Mānoa!
Thank you for visiting the University Health Services Mānoa website with its description of the range of health care services available to UHM students, faculty, and staff. Our clinical medical services are located in the UHSM Building next to Kennedy Theatre and our Health Promotion activities are based in the Queen Liliʻuokalani Center for Student Services Building.
The Medical Clinic offers clinical medicine and specialty consultation services in primary medical care, women's health, sports medicine, dermatology, psychiatry, travel medicine, nutrition, pharmacy, and clinical laboratory. Our providers and staff use a powerful electronic health record system that interacts with a secure on-line Patient Access Portal that allows our patients to schedule appointments, access immunization records, and communicate securely and privately with our clinical staff.
The Health Promotion section provides a health promotion resource center in addition to services and consultations in health education, peer education, substance abuse education and counseling.
We hope you will use this resource to explore and identify our services that will help you have a wonderful student experience.
Best wishes for a successful and healthful career at UH Mānoa!
Mālama pono,
Andrew W. Nichols, M.D.
Director, University Health Services Mānoa
Clinical Professor of Family Medicine and Community Health
John A. Burns School of Medicine
University of Hawaiʻi at Mānoa