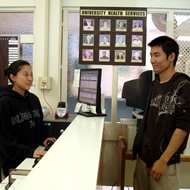 Frequently Asked Questions (FAQ)
What services are available through the patient portal?
Make an immunization or medical appointment
Access medical or immunization records
Upload and view select documents
Access and send secure messages to UHSM staff
Access and update patient profile information, insurance information, and health history
For more information regarding the patient portal, or to report any problems, please call (808) 956-8965.
Does UHSM accept walk-in appointments?
It is recommended that all patients make an appointment through their patient portal or by calling (808) 956-8965. Walk-in appointments will be scheduled by the clinical staff as appropriate.
Is health insurance required to use UHSM's services?
Health insurance is not required for use of UHSM's services. Without health insurance, patients will be required to pay an out-of-pocket cost at the time of service.
Will my health insurance fully cover the costs of my visit?
UHSM does not guarantee any health insurance plan will fully cover the costs of services received. Patients should inquire with their insurance company should they have any questions regarding specific coverage.
How can I pay my outstanding balance?
Patients may pay in-person, by phone at (808) 956-8965, or by mailing a check to :
University Health Services Mānoa
1710 East West Road
Honolulu, HI 96822
There is currently no online pay option.