NSSE *Free* Yoga Event
February 13, 4:30pm - 5:30pm
Mānoa Campus, UHM Andrews Amphitheater
---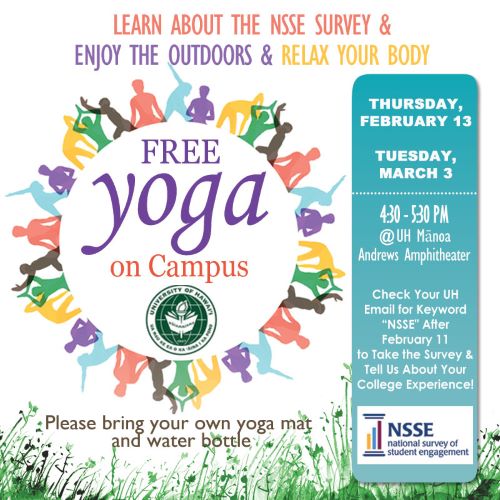 Enjoy this free yoga session at the majestic Andrews Amphitheater & learn about NSSE (the National Survey of Student Engagement)!
Please bring appropriate attire, a water bottle, & a yoga mat.
Freshmen & Seniors, search "NSSE" in your UH email to take the survey & tell us about your college experience. Prizes drawn on March 3!
Event Sponsor
Manoa Institutional Research Office, Mānoa Campus
More Information
Yang Zhang, (808) 956-5877, miro@hawaii.edu, https://manoa.hawaii.edu/miro/nsse/
---
Thursday, February 13

10:30am

Condom Fair

Mānoa Campus, Campus Center Courtyard
12:00pm

Brown Bag - Nohealani Hirahara Frizzell

Mānoa Campus, Kuykendall 410
12:00pm

Law School Information Session

Mānoa Campus, Campus Center 310
12:00pm

Menstrual Cup Giveaways & Sex Ed Event

Mānoa Campus, Campus Center, Room 203B
1:00pm

Herbarium Open House

Mānoa Campus, St. John 401
3:00pm

Oceanography Seminar - Molly Lutcavage

Mānoa Campus, Marine Science Building 100
3:00pm

Using LinkedIn to Network & Find Jobs

Mānoa Campus, Queen Liliuokalani Center for Student Services Rm. 212
4:30pm

NSSE *Free* Yoga Event

Mānoa Campus, UHM Andrews Amphitheater
4:30pm

International Graduate Student Conference

Mānoa Campus, Jefferson Hall/Imin Center, East-West Center
4:30pm

Our Pono Future: Nurturing a Place of Abundance

Mānoa Campus, Jefferson Hall/Imin Center, East-West Center
5:30pm

LSAT 101 Workshop

Mānoa Campus, Campus Center, Room 307
5:30pm

CCBAC's Be Your Valentine

Mānoa Campus, Campus Center Ballroom
6:00pm

Elohist Club Meeting & Fellowship

Mānoa Campus, Campus Center 203C