International Graduate Student Conference
February 13, 4:30pm - 7:00pm
Mānoa Campus, Jefferson Hall/Imin Center, East-West Center
---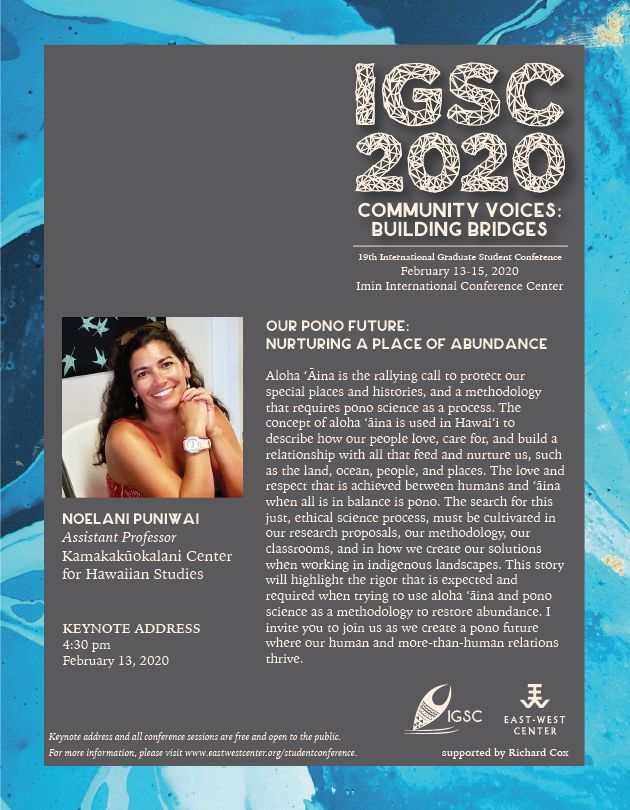 Grad students from more than 25 countries gather at the East-West Center to present their research in a range of disciplines. The conference, planned and organized by EWC students, is among the largest of its kind worldwide.
The theme of this year's conference is "Community Voices: Bridging Borders." All conference sessions, excluding meals, are free and open to the public.
Noelani Puniwai, assistant professor at UH Manoa's Kamakakuokalani Center for Hawaiian Studies, will deliver the conference's keynote address on 'Our Pono Future: Nurturing a Place of Abundance' on Feb. 13 at 4:30 p.m. Her address will focus on the concept of aloha aina (love and respect between humans and the land) as fundamental to learning and science that is just and ethical, or pono.
In addition, there will be a closing plenary session at 3:30 p.m. on Sat. Feb. 15, focusing on 'Images Across Austronesia.' With sponsorship from the Council of Indigenous Peoples in Taiwan, the session will feature award-winning filmmakers Sergio Rapu and Vilsoni Hereniko.
All conference sessions will take place at the Imin Center's Jefferson Hall, located at 1777 East-West Road opposite UH Manoa's Kennedy Theatre. The panel sessions run between 8:30 a.m. and 5:15 p.m. on Feb. 14 and 15.
Event Sponsor
East-West Center, Mānoa Campus
More Information
(808) 944-1111, StudentConference@EastWestCenter.org, http://www.eastwestcenter.org/education/student-programs/international-graduate-student-conference
---
Thursday, February 13

10:30am

Condom Fair

Mānoa Campus, Campus Center Courtyard
12:00pm

Brown Bag - Nohealani Hirahara Frizzell

Mānoa Campus, Kuykendall 410
12:00pm

Law School Information Session

Mānoa Campus, Campus Center 310
12:00pm

Menstrual Cup Giveaways & Sex Ed Event

Mānoa Campus, Campus Center, Room 203B
1:00pm

Herbarium Open House

Mānoa Campus, St. John 401
3:00pm

Oceanography Seminar - Molly Lutcavage

Mānoa Campus, Marine Science Building 100
3:00pm

Using LinkedIn to Network & Find Jobs

Mānoa Campus, Queen Liliuokalani Center for Student Services Rm. 212
4:30pm

NSSE *Free* Yoga Event

Mānoa Campus, UHM Andrews Amphitheater
4:30pm

International Graduate Student Conference

Mānoa Campus, Jefferson Hall/Imin Center, East-West Center
4:30pm

Our Pono Future: Nurturing a Place of Abundance

Mānoa Campus, Jefferson Hall/Imin Center, East-West Center
5:30pm

LSAT 101 Workshop

Mānoa Campus, Campus Center, Room 307
5:30pm

CCBAC's Be Your Valentine

Mānoa Campus, Campus Center Ballroom
6:00pm

Elohist Club Meeting & Fellowship

Mānoa Campus, Campus Center 203C