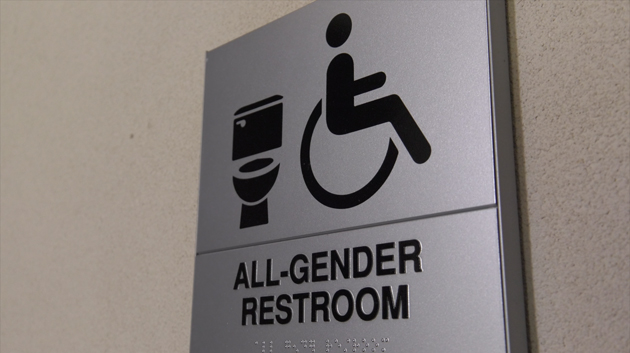 Nine all-gender restrooms are now available at the University of Hawaiʻi at Mānoa campus, and 73 percent of the bathrooms in the residence halls are all-gender bathrooms. All-gender restrooms are also available at UH Hilo and UH West Oʻahu. Similar to "family restrooms" that can be found in some shopping malls and airports, each all-gender restroom is a lockable, single-stall and provides both ADA accessibility and privacy.
Two student-led organizations led campaigns to actively bring attention to the issue on the Mānoa campus. The Associated Students of the University of Hawaiʻi, and the Graduate Student Organization passed resolutions in 2015 calling for more gender-neutral restrooms at UH Mānoa.
"UH Mānoa is committed to ensuring a safe, respectful and diverse campus that is free from discrimination and harassment. The establishment of all-gender restrooms is tangible evidence of that commitment," said UH Mānoa Chancellor Robert Bley-Vroman. "We applaud the work of the leadership and staff at the LGBTQ+ Center, facilities personnel and campus architects for working collaboratively and quickly to make these all-gender restrooms available for our students this fall."
The UH Mānoa LGBTQ+ Center also assisted UH Hilo, which has more than 20 all-gender bathrooms, and UH West Oʻahuu, which has one all-gender bathroom and plans to add two more.
"No one should ever feel uncomfortable using our restroom facilities," said UH Hilo Chancellor Don Straney. "That's why we've established more than 20 gender-neutral bathrooms throughout the campus, including our residence halls, Student Life Center and other key buildings, which can be readily located on our interactive map. Protecting the privacy of our faculty, staff and students is a responsibility we take very seriously."
"I'm pleased that we're taking this long-awaited and necessary action," interim UH West Oʻahu Chancellor Doris Ching said. "By providing gender-neutral restrooms, we hope that all persons will feel safer in every part of the UH West Oʻahu campus at all times."
Upholding legal rights
On May 13, 2016, the U.S. Departments of Justice and Education released, under Title IX of the Education Amendments of 1972, a "Dear Colleague Letter" relating to the legal rights of transgender students in schools and universities receiving federal funding. The communication stated that students should have the right to use restrooms that match their gender identities.
The University of Hawaiʻi had already started policy work in this area well before the letter was issued.
"All-gender restrooms can be essential for transgender and gender-non-conforming students who don't feel comfortable in sex-segregated facilities," said LGBTQ+ Center Director Camaron Miyamoto. "In addition, their use is ideal for ADA access, caregivers, parents with children and anyone who might require some additional space and privacy that cannot be provided within a restroom with multiple stalls."
The all-gender restrooms on the Mānoa campus are located in Architecture Building 315; the Dole Street Offices; Gartley Hall 11; Hamilton Library 303A and 303B; Holmes Hall 271, 371 and 471; and Webster 401A. View the Mānoa campus map (PDF).
For links to UH Hilo's gender-neutral restrooms, see the campus map (PDF).