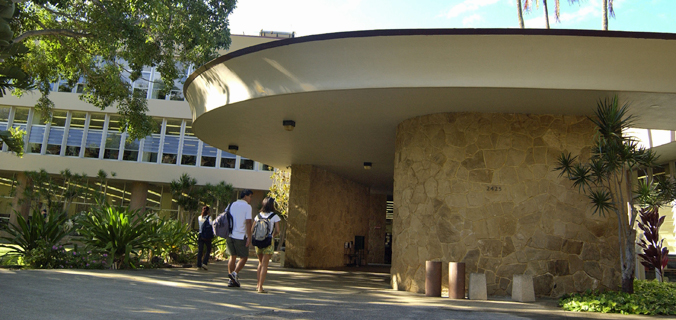 Editor's Note: This story was updated on September 27, 2017. In response to requests of students, Library Services is modifying its proposal to change the hours at Sinclair Library. The updated story reflects the updated hours of operation.
The regular hours of operation for Sinclair Library on the University of Hawaiʻi at Mānoa campus will change on October 1, 2017.
Monday–Thursday: 8 a.m.–2 a.m. (the following day)
Friday: 8 a.m.–6 p.m.
Saturday: 9 a.m.–5 p.m.
Sunday: Noon–2 a.m. (Monday)
The hours for Hamilton Library will not change. During study days and exam periods at the end of the semester, which runs from December 4–14, Sinclair will be open overnight. For up-to-date information on hours for Sinclair and Hamilton libraries online.
The decision to change Sinclair's regular hours of operation was made in response to a number of factors, including low usage in the overnight hours and staffing.
"We understand the importance of library usage, so this decision did not come lightly," said Interim Librarian Monica Ghosh. "Our mission at the Libraries is to serve and be that human connection between our students, faculty and staff, and the knowledge resources that they need to succeed. We are looking forward to continuing that service."
UH ID checks at Sinclair will take place at and after 9 p.m.
The new hours at Sinclair are the result of a compromise reached by the Office of the Chancellor and the President of ASUH.
Questions and comments on the change in hours can be sent to library@hawaii.edu.