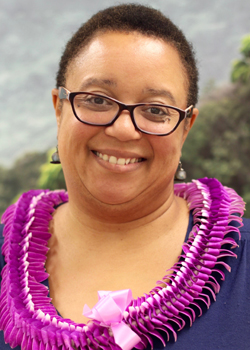 The Library and Information Science Program at the University of Hawaiʻi at Mānoa has been awarded the Laura Bush 21st Century Librarian Program Grant from the Institute of Museum and Library Services.
The grant award will fund a 3-year professional development program involving collaborative projects with LIS (part of the Department of Information and Computer Sciences within the College of Natural Sciences), the Native Hawaiian Library of ALU LIKE, Inc., and professional public librarians of the Hawaiʻi State Public Library System. The project is called Hui ʻEkolu: Bridging Educational, Cultural, and Technical Exchange among Native and Public Libraries in Hawaiʻi.
Vanessa Irvin, LIS assistant professor, is project director for Hui ʻEkolu. She said the award is a significant accomplishment within the field of library and information science.
Creating a model to engage local communities with indigenous populations
The funding will allow the hui ʻekolu ("three groups") to collaborate to bring together pre-professionals, para-professionals and professionals in the library field. Thirteen teams will be formed (each with one pre-professional, para-professional and professional) to address and complete projects identified at various library sites. The cohorts will create opportunities for cross-learning between the participants while they work as a team to identify opportunities and create projects that benefit the local community at their assigned sites.
The project will not only benefit its participants and local community, but will create a model for how cross-learning, particularly in areas with large indigenous populations, can be achieved and result in programming that is more responsive and engaged with the local community.
"Hui ʻEkolu seeks to create a model for public librarian professional practice that positively situates native/indigenous knowledge as a framework for synthesizing LIS technical skills," explained Irvin. "With this grant, Hui ʻEkolu will be able to create a professional development model for cross-learning, mentoring and professional development toward culturally competent and meaningful public library services in Hawaiʻi that can also be implemented in public library systems everywhere, particularly within native and indigenous communities."