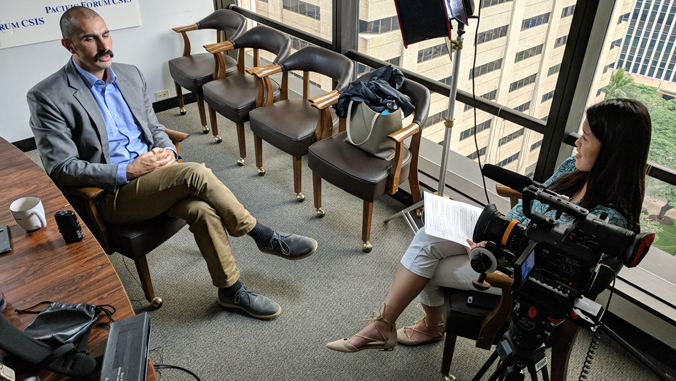 University of Hawaiʻi at Mānoa journalism major Nicole Tam was one of five students nationally to earn an inaugural $10,000 Facebook Journalism Project scholarship from the Asian American Journalists Association (AAJA). Facebook created the scholarship program with a $1 million pledge in 2017 to support students of diverse backgrounds who aspire to pursue a career in news and media.
Critics of the social-media titan have accused Facebook of destroying journalism while profiting by spreading propaganda. In 2018, Facebook funded four organizations—the National Association of Hispanic Journalists, the Native American Journalists Association, the National Lesbian and Gay Journalists Association and AAJA—with $250,000 each, as a way to provide $50,000 in scholarships each year for the next five years.
"It's an honor to receive this scholarship, especially one that is in support of such an important issue in this day and age of 'fake news,'" said Tam, who hopes to become a broadcast journalist after she graduates in fall 2018. "I strive to practice ethical journalism and to be a fair and balanced reporter."
As one of the five AAJA recipients nationally, Tam will receive $10,000 in the fall to support her education in the School of Communications at UH Mānoa.
"The School of Communications has a long tradition of emphasizing ethics," said Denise Konan, dean of UH Mānoa's College of Social Sciences. "I'm so proud that Nicole has received national recognition for her scholarship in journalism. She is well positioned to provide professional leadership in her student activities and future career."
Added Gerald Kato, associate professor and chair of the school, "We are extremely proud of Nicole in receiving this prestigious award from the Asian American Journalists Association. It is a tribute to the work she has devoted to journalism."
Tam began serving as editor-in-chief of the UH Mānoa student newspaper, Ka Leo, in summer 2018. She also works part-time as a digital-media producer at the local ABC-affiliate KITV and as a freelance magazine writer.