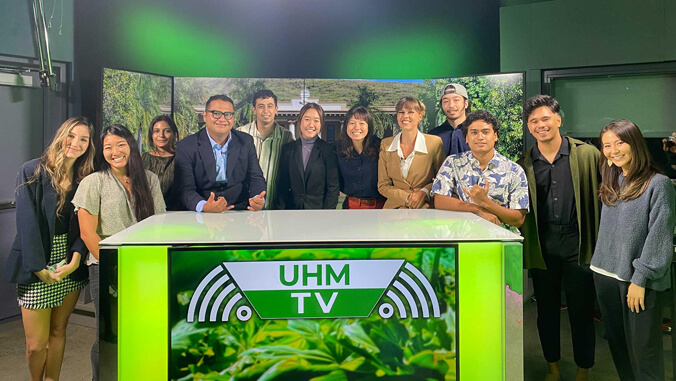 University of Hawaiʻi at Mānoa student journalists continued their winning streak and took home a bronze at the 43rd annual Telly Awards in the Television Series: Education and Discovery category. The category recognizes TV shows or segments consisting of at least two episodes focused on education and/or discovery.
The Bronze Telly recognized a four-episode TV series for UHMtv, an online news series written, hosted and produced by journalism students in the School of Communications at the College of Social Sciences (CSS).
"I'm proud of the work we produced, because it reflects all of the long hours we put in," said UHMtv student co-producer Elizabeth Ufi. "It was for the communities we represent, keeping them informed with honest news."
The individual award-winning UHMtv episodes were:
"This award is testament to the exceptional talents of our student journalists, who have risen above the challenges of the past two years and continue to share their skills—both in front of and behind the cameras—to bring innovative stories to life," said Denise Eby Konan, CSS dean. "This year's Bronze Telly honor places our student journalists alongside professional broadcast Telly winners such as Hearst Media Group, PBS and NBC affiliates."
The credit list for the Bronze Telly includes:
Journalism 470-480 classes spring and fall 2021, UH Mānoa School of Communications
Student Producer: Aloha Lau, UHMtv show No. 23
Student Co-Producer: Elizabeth Ufi, UHMtv show No. 23
Student Producer: Sophia Compton, UHMtv show No. 24
Student Co-Producer: Liam Thropp, UHMtv show No. 24
Student Producer: Georgia Clair Johnson-King, UHMtv show No. 25
Student Co-Producer: Victoria Budiono, UHMtv show No. 25
Student Producer: Erin Fujitani, UHMtv show No. 26
Creative Director: Bernadette Baraquio, UH Mānoa College of Social Sciences
Digital Studios Director: Sherrie White, UH Mānoa College of Social Sciences
News Director: Gerald Kato, UH Mānoa School of Journalism
"Creating a show during the pandemic brought all sorts of unknown challenges, which was the perfect experience to prepare for real world journalism," said Thropp. "Shooting, editing and creating a show with such a determined group allowed us to show the best work we could produce in our collective college experience."
Added Johnson-King, "Taking home a Telly award is truly an honor for our class. After personally seeing the laborious hours the class worked, I'm thrilled to see it recognized by this monumental award."
Founded in 1979, the Telly Awards is a national competition that recognizes outstanding local, regional and cable TV commercials and programs, video and film productions, as well as online commercials, video and films. This year marks the fourth straight year that UH Mānoa journalism students have received Telly awards.
UHMtv is a capstone project of the Journalism 470-480 classes in the spring and fall 2021 semesters taught by Kato, Baraquio and White.