University of Hawaiʻi at Mānoa student journalists earned a Silver Telly Award at the 44th Annual Telly Awards in the Television Series: Video Journalism category, competing among nearly 13,000 entries across the globe in dozens of categories.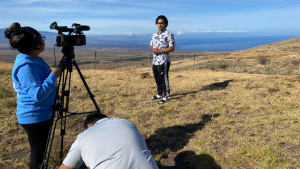 The Silver Telly recognized four episodes of UHMtv from the 2022 spring and fall semesters. UHMtv is an online news series written, hosted and produced by journalism students in the School of Communication and Information in the College of Social Sciences (CSS). This year marks the fifth straight year that UH Mānoa journalism students have received Telly awards.
The individual award-winning UHMtv episodes were:
"It's an honor to receive this award, not only for our class but also for the people whose voices and stories we shared in these shows. Being able to highlight Indigenous communities like Hawaiians, Okinawans and much more on a national level like this is really special. It reminds me to why I do this, to keep sharing stories and bringing issues to light," said Hiʻilawe Neves, UHMtv student producer and anchor.
Submissions for the Telly Awards came from the U.S., Middle East, UK and Canada, as well as strong entries from Malaysia, Taiwan, Hong Kong, and as widespread as Afghanistan, Sweden, New Zealand, Jamaica, and South Africa. Other Telly winners included some of the most prominent global brands and companies such as Cut+Run, Netflix, Disney Parks, Media.Monks, Paramount, National Geographic Society and the NBA's Golden State Warriors.
"It's a very special opportunity to be recognized for an award of this caliber," added Ethan Young, UHMtv student co-producer and anchor. "I am very thankful for the lessons I learned, experiences I've had, and the people I was blessed to meet along the way! It was a first step to sharing stories from around the world."
Founded in 1979, the Telly Awards annually showcases outstanding work in video and television across all screens. Telly Award winners represent work from some of the most respected advertising agencies, television stations, production companies and publishers from around the world.
"As student producers and anchors, it was awesome to see our peers collaborating and truly learning how to do reporting in a safe space for growth. As a student with Indigenous roots in Oceania, I also felt the importance of being able to represent our communities in an empowering way and to show this solidarity in our work. It's always nice to be able to look at something that was broadcasted and say we did that. Nifē dēbiru (thank you) for sharing this journey with us. I couldn't be more excited for the future of our team and all of their inspiring pieces still yet to come," said Kaiya Laguardia-Yonamine, UHMtv student producer and anchor.
The credit list for the university's Silver Telly includes:
Journalism: J470-480 classes spring-fall 2022, UH Mānoa School of Communication and Information
Student Producers: Jordyn Poyo, UHMtv Show 27, Lydia Tristan, UHMtv Show 28, Elyce Hastings, UHMtv Show 29 and Ashley Middleton, UHMtv, Show 30
Student Producer/Anchor:

Hiʻilawe

Neves, UHMtv Show 29 and Kaiya Laguardia-Yonamine, UHMtv Show 30
Student Co-Producer: Margaret Cipriano, UHMtv Show 29, 30
Student Co-Producer/Anchor: Erin Fujitani, UHMtv Show 27 and Ethan Young, UHMtv Show 27, 28
Student Anchors: Georgia Clair Johnson-King, UHMtv Show 28, Charleston Cazimero, UHMtv Show 28, Mae James, UHMtv Show 29 and Mackenzie Olivo, UHMtv Show 30
Executive Producer/Creative Director: Bernadette Baraquio, UH Mānoa College of Social Sciences
Director: Sherrie White, UH Mānoa College of Social Sciences
The experiences with UHMtv have prepared the students for future careers in the industry. Among them, Cazimero is a producer at KHON, Poyo is a creative producer in Hawaiʻi News Now's marketing department, Young is a videographer and editor for Hawaiʻi News Now's HI Now, Neves teaches at Searider Productions at Waiʻanae High School and Laguardia-Yonamine is a digital communications intern with the Pacific Disaster Center.