The Honolulu Climate Change Commission, chaired by University of Hawaiʻi at Mānoa Professor Makena Coffman, has presented its recommendations on sea level rise guidance and climate change to Mayor Kirk Caldwell and members of the Honolulu City Council. In response, Caldwell issued a formal directive to all city departments and agencies to take action in order to address, minimize the risks from and adapt to the impacts of climate change and sea level rise.
In its sea-level rise guidance, the commission emphasized that the city should be planning for high tide flooding to become a problem by mid-century. This will be associated with global mean sea level rise of 3.2 feet by the end of the century. Also, because of continued high global carbon emissions, the commission recommended taking into consideration 6 feet of sea-level rise in later decades of the century, especially for critical infrastructure with long expected lifespans and low-risk tolerance. The sea-level rise guidelines recommended by the commission are consistent with findings by the Intergovernmental Panel on Climate Change and the National Oceanic and Atmospheric Administration (NOAA).
"Coastal communities across the world are grappling with how to address rapid sea level rise due to climate change," said Coffman. "The commissioners and I appreciate that our community has established a process by which science can directly inform decision-making. The city's leadership has been proactive in understanding the scope of the problems that climate change will create for Hawaiʻi and changing policies to make us more resilient. Embracing the commission's sea level rise guidance is another step in this direction."
In an accompanying climate-change brief, an independent report that lays the foundation for the sea-level rise guidance, the Climate Change Commission agreed with the overwhelming majority of international scientists that the world is currently on a pathway of warming more than 5.4 degree F above pre-industrial levels.
Specific to the City and County of Honolulu, the commission included in its detailed sea-level rise guidance that rising seas will threaten Oʻahu communities and natural ecosystems in multiple ways, including increased vulnerability to flooding; land loss and coastal erosion; saltwater intrusion into streams and coastal wetlands; and increased damage when hurricanes, tsunamis and seasonal high waves strike. The commission further concluded that rising seas will negatively impact local communities, habitats, property, infrastructure, economies and industry.
"As a scientist, father and grandfather, I am grateful that Mayor Caldwell is acting with courage and speed on the commission's recommendations," said Commision Vice Chair Charles Fletcher, associate dean of UH Mānoa's School of Ocean and Earth Science and Technology. "I am extremely proud that in the City and County of Honolulu, and throughout the state of Hawaiʻi, our leadership recognizes that every community must act immediately to reduce global carbon emissions and adapt to the climate change risks that are now inevitable. Unless the world joins us, we will all be facing severe and dire consequences."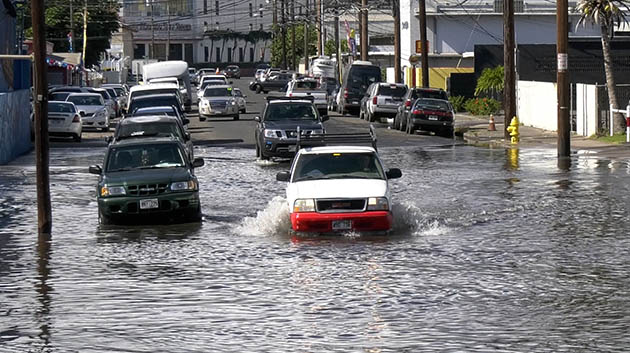 The commission, which carefully tracks a combination of international research and local modeling to underpin its decisions, also stressed that impacts from high tide flooding will arrive decades ahead of permanent inundation. Tidal flooding is projected to become more frequent and erode beaches, flood roads and, in times of rainfall, bring local transportation to a standstill. According to modeling by NOAA, under its "Intermediate scenario," flooding exceeding last year's "king tide" level could be present an average of twice per month in Honolulu before mid-century.