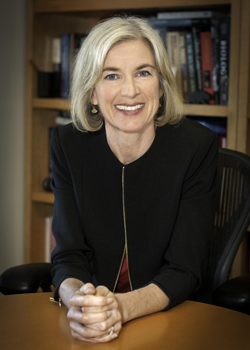 Jennifer Doudna, a pioneer in genome editing, will open the Rose and Raymond Tseng Distinguished Lecture Series on September 17 in the University of Hawaiʻi at Hilo's Performing Arts Center. This event is open to the public.
Doudna is an internationally renowned professor of chemistry and molecular and cell biology at the University of California, Berkeley. Doudna and her colleagues developed CRISPR (Clustered Regularly Interspaced Short Palindromic Repeats)-Cas9, a genome editing technology that enables scientists to edit the DNA of any organism on an unprecedented scale for a minimal cost. She will discuss her work at her talk, "CRISPR Systems: Nature's Toolkit for Genome Editing."
This breakthrough technology has redefined the possibilities for human and non-human applications of gene editing. It has opened up and accelerated the development of new genetic surgeries to cure disease, and provided novel ways to care for the environment and nutritious foods for a growing global population that is challenged by climate change.
As the public considers ethical questions surrounding the use of the CRISPR-Cas9 technology, Doudna has been at the forefront of the global debate on its use. She is the co-author of A Crack in Creation, which details the discovery of CRISPR-Cas9 and warns of the enormous responsibility that comes with the ability to rewrite the genetic code of life and possibly control evolution.
Rose and Raymond Tseng Distinguished Lecture Series
The Rose and Raymond Tseng Distinguished Lecture is an initiative supported by an endowed fund started by UH Hilo Chancellor Emerita Rose Tseng. The lecture series is intended to continue Hawaiʻi's dialogue with the rest of the world in areas including local entrepreneurship, international women's leadership, global technology, the integration of science and culture, and indigenous language/cultural issues.