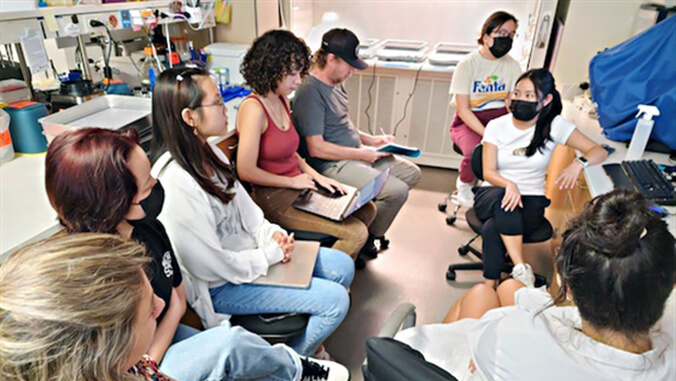 University of Hawaiʻi at Mānoa Assistant Professor Zhi-Yan "Rock" Du from the Department of Molecular Biosciences and Bioengineering (MBBE) has received a $149,000 grant from the USDA's National Institute of Food and Agriculture to jumpstart a project that will introduce the UH System to CRISPR, the basis of genetic editing technology.
Motivated to educate Hawaiʻi's current and future workforce in this cutting-edge technology—and to better represent Native Hawaiians and other Pacific Islanders in science and technology disciplines—Du has initiated the first official CRISPR laboratory course at UH Mānoa, in addition to CRISPR workshops for baccalaureate and two-year postsecondary students within the UH System.
"This education project will address the educational disparities and needs of curriculum development, instructional delivery systems and expand student career opportunities," said Du. "The long-term goal of this project is to develop agricultural and science literacy in Hawaiʻi by building competencies in molecular biology, genetics, biotechnology, agricultural science and science communication."
Du and his graduate students and teaching assistants conducted an MBBE/BIOL 401Lab Molecular Biotechnology Lab-Gene Editing by CRISPR/Cas9 in spring 2023 and have also planned workshops in summer and fall, with the first workshop to launch in July 2023. Students will also utilize materials such as tropical maize from a current research project for this new education opportunity.
CRISPR for the future, food of
Hawaiʻi
In the past decade, CRISPR genetic engineering tools have become an essential technology in numerous industries, including food and agriculture, drug development and therapy, as well as ongoing scientific research; however, Du said that CRISPR systems are "not well understood in the general community, leading to fears and misunderstandings about genetic engineering and an overall anti-science outlook."
"Hawaiʻi is heavily dependent on food imports," said Du. "It's urgent to simulate local agriculture and workforce development. The grant will promote the education of college students on novel non-transgenic genome editing technologies, such as CRISPR/Cas RNP (ribonucleoprotein) with gene gun/particle bombardment methods. Students will learn and practice the new genome-editing technologies. We hope to engage more students from UH Mānoa and other campuses, including community colleges, in food and agricultural careers for our future food security and quality."
Read more at the CTAHR website.