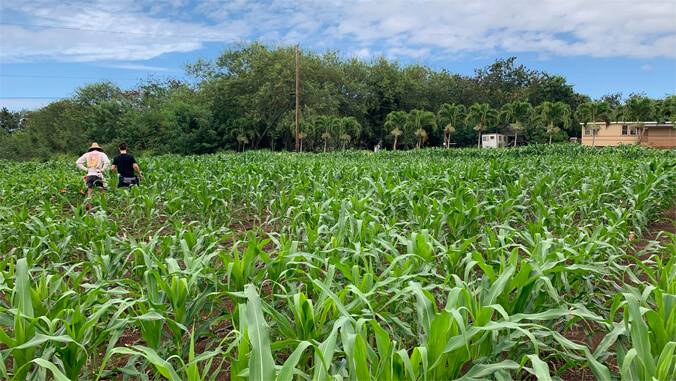 Improved, practical crop breeding tools are essential to meet the increasing global demands for sustainable and secure food production, made more urgent by the unpredictable stresses driven by a changing climate.
To help meet this need, the National Science Foundation Established Program to Stimulate Competitive Research (NSF EPSCoR) has awarded $3.99 million to researchers at the University of Hawaiʻi at Mānoa and Iowa State University to develop an efficient, robust genome engineering toolkit that plant breeders can use to speed the generation of resilient crops adapted to a changing environment.
Maize contributes $61 billion to the U.S. economy and is the biggest commodity crop grown in both Hawaiʻi and Iowa. Genetic diversity is the lifeblood of breeding better crops, but reproductive barriers are often major bottlenecks to accessing this diversity.
Tropical maize germplasm is a rich source of genetic diversity, but its short-day flowering behavior in temperate environments precludes its broad use for maize improvement. This project aims to overcome this barrier by developing methods and tools that remove the short-day flowering requirement from any tropical maize line, allowing it to be incorporated into any maize breeding program.
The project, "Genome Engineering to Sustain Crop Improvement (GETSCI)," is led by Michael Muszynski, assistant professor in the Department of Tropical Plant and Soil Sciences of the College of Tropical Agriculture and Human Resources.
"This collaboration leverages strengths in tropical plant biology and transformation (Hawaiʻi) with expertise in maize transformation, genome engineering, and crop breeding (Iowa) so we can develop and apply improved tools to suppress the late flower behavior of high yielding tropical maize inbreds, allowing them to be used immediately in any maize breeding program, worldwide," said Muszynski. "This type of work is not possible within a single institution, and so I am grateful and excited NSF EPSCoR is investing in building research capacity at both institutions so we can develop tools to help crop breeders sustainably feed 8 billion people."
Addressing food security
Collaborators for the four-year public impact research project include Assistant Researcher Teresita Amore, Assistant Professor Zhi-Yan (Rock) Du and Professor Amy Hubbard at UH Mānoa. Partners from Iowa State University are Professors Kan Wang and Jianming Yu.
"Expected impacts from this project will help address food and economic security in Hawaiʻi, by supporting development of new tropical crop breeding industries. In Iowa, access to gene-edited, temperate-adapted tropical germplasm will move breeding of improved corn varieties into the next era," said Wang. "This project also supports an exchange of knowledge and talent among students at our respective universities that sets the stage for continuing, important collaboration."
This research is an example of UH Mānoa's goal of Excellence in Research: Advancing the Research and Creative Work Enterprise (PDF), one of four goals identified in the 2015–25 Strategic Plan (PDF), updated in December 2020.
Workforce capacity will also be increased by engaging underrepresented students, particularly Native Hawaiians and Pacific Islanders, in diverse aspects of genome engineering research, by the exchange of undergraduates between partner institutions, and by creating opportunities for improved science communication skills through training sessions, workshops, and engagement with the community.
Project dedication
Muszynski initially developed the idea for the GETSCI project in collaboration with his longtime friend and colleague Nick Lauter, a U.S. Department of Agriculture (USDA) research geneticist and faculty affiliate in the Department of Plant Pathology and Microbiology. Lauter was the USDA lead for the GETSCI collaboration when he passed away unexpectedly at age 48, two weeks prior to the submission of the project proposal.
"Through this project, the GETSCI team hopes to honor Nick Lauter's memory, his collaborative spirit and his many contributions to maize genetic research," said Muszynski.