Editor's note: This story was updated to add photos from the event. For more photos go to the UH Mānoa nursing Flickr album.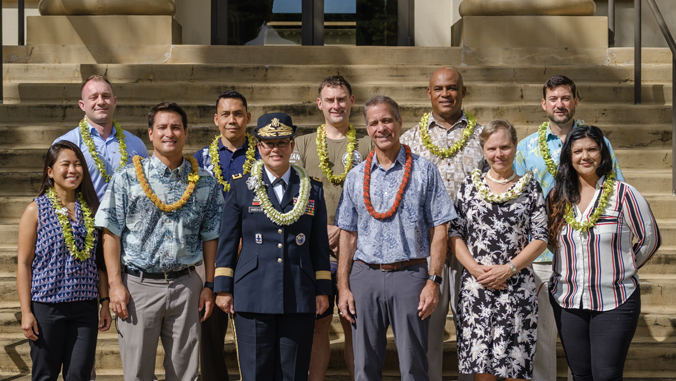 The Office of Veteran Student Services (OVSS) at the University of Hawaiʻi at Mānoa will host the 2018 Veterans Day Celebration on Thursday, November 8, on the Hawaiʻi Hall lawn. The event, to honor all veterans, will recognize 16 student veterans with scholarships.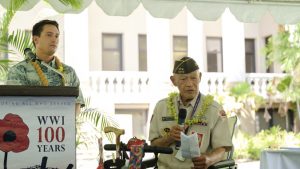 Major General Suzanne P. Vares-Lum, mobilization assistant to the commander of U.S. Indo-Pacific Command at Camp Smith, will be keynote speaker. She is the first female major general of Native Hawaiian ancestry in the U.S. Army.
Remarks will also be shared by Kenith Scott, OVSS director; Kristine Qureshi, UH Mānoa nursing associate dean for research and global health; and Michael Bruno, UH Mānoa interim vice chancellor for academic affairs and vice chancellor for research. The celebration will be followed by a free cake reception honoring the U.S. Marine Corps' upcoming 243rd birthday on November 10.
OVSS supports active duty military, veterans, reservists, National Guard and military-connected students. The office is committed to providing support for veterans transitioning to college and during their studies at UH.
This is the fifth and final year that the UH Mānoa Nursing Veterans to Nurses Program will assist with coordination of the event.
The celebration is supported by OVSS, Nursing's Achieving a BS in Nursing — A Veterans' Initiative Program, Student Veteran Organization and Student Activity and Program Fee Board.
For the full story, go to the nursing website.
—By Desiree Uyeda