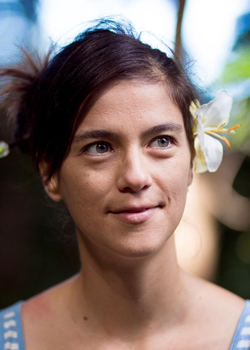 Out Loud in the Library! at Windward Community College presents Laurel Nakanishi, winner of the 2018 Berkshire Prize from Tupelo Press, and Zachary Payne, author of Termites: the illegal occupation of paradise, on Thursday, November 29, 7 p.m. in Hale Laʻakea Library. The event is free and open to the public.
Out Loud in the Library! is a literary and music event celebrating the rich intersection of words and music by local artists. It is meant to inspire and encourage students to find their own creative voice through writing, reading, poetry, music, spoken word and the visual arts.
Laurel Nakanishi
Nakanishi was born and raised on Oʻahu. Through her work as a writer and educator, she has lived in Montana, Nicaragua and Japan. Nakanishi has received grants from the Fulbright Foundation, Wrolstad Foundation, Japan-U.S. Friendship Commission and the National Endowment for the Arts. Her poetry and essays have appeared in national literary magazines and the prize-winning chapbook, Mānoa|Makai. She currently teaches poetry to children on Oʻahu with the Pacific Writers' Connection and the Hawaiʻi State Foundation for Culture and the Arts.
Zachary Payne
Payne is a poet and translator who teaches Spanish and linguistics at Windward CC. After learning Spanish at the age of 19, the new language opened up his creativity and became the basis of his poetic voice. Payne has published two collections of Spanish poems, Robos, Setas and Sombras and was included in the anthology Disidentes antología de poetas críticos españoles. In 2016, he published Termitas/Termites, a bilingual online chapbook. His poetry collection, Termites: the illegal occupation of paradise, is forthcoming from Hesterglock Press in 2019.
For more information, contact Out Loud in the Library! coordinator Susan St. John at susankcl@hawaii.edu or (808) 236-9226
—By Bonnie Beatson