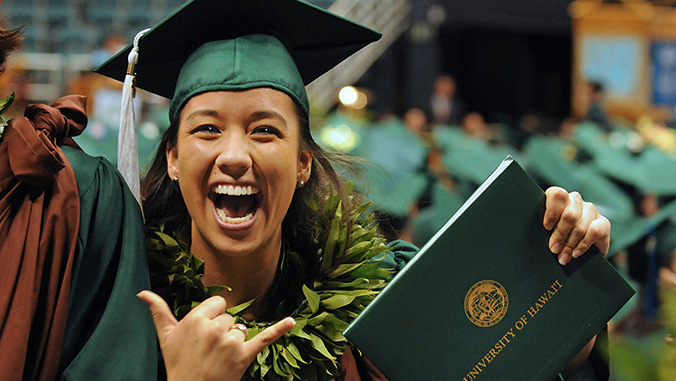 The four-year graduation rates for Native Hawaiian and Filipino students at the University of Hawaiʻi at Mānoa have reached record highs. From 2010 to 2018, the four-year graduation rates for first-time freshmen increased from 10.3 percent to 32.3 percent for Native Hawaiian students, and from 13.8 percent to 37.7 percent for Filipino students.
The overall four-year graduation rate at UH Mānoa is now at an all-time high of 35.2 percent in 2018, a 1.2 percent increase from the record set in 2017 and 17.4 percent increase from 2010. UH Mānoa was nationally recognized by the Association of Public Land Grant Universities in 2017 for its dramatic improvement in graduating students on time.
"We are, of course, very proud of the steady climb of our overall four-year graduation rate and are confident that it will continue," said UH President and UH Mānoa Interim Chancellor David Lassner. "We are most proud of the graduation rate increase among Native Hawaiians and Filipinos. These two ethnic groups were long ago identified as underserved when it comes to higher education and we have worked hard to increase their enrollment and college success."
Programs geared toward Native Hawaiians key to success
A number of support programs for Hawaiian students at Mānoa have contributed to the improved graduation rate. Native Hawaiian Student Services (NHSS) offers about 20 programs designed to improve student success, research and leadership, along with student-faculty engagement. One example is the ʻŌiwi Undergraduate Research Fellowship that provides paid research opportunities for Hawaiian undergraduate students from all disciplines and majors.
"The students in the program are mentored by Hawaiian faculty members so, not only do they have these important role models and tremendous sources of information, they also develop research and critical thinking skills," said NHSS Director Willy Kauai. "Developing student scholars is critical to our mission of preparing students to build upon the legacy of excellence from our ancestors."
Filipinos flourishing thanks to focus on students
Student Equity, Excellence & Diversity (SEED) programs and initiatives also work to engage and support Filipino and Native Hawaiian students, and others from communities that are traditionally underrepresented at UH Mānoa. The Hawaiʻi Undergraduate Initiative (HUI) is a summer leadership program providing a free 3-credit summer college course for a select group of incoming UH Mānoa freshmen. HUI also offers skill building workshops on using university resources, exploring academics and careers, and developing critical writing and math skills.
"Over half of the participants in HUI identify as Filipina or Filipino," said Christine Quemuel, UH Mānoa interim vice chancellor for diversity and SEED director. "All HUI participants are paired with a peer mentor who supports them during their transition from high school to college. Engaging with students from when they first arrive on campus, educating them on the resources available and providing them a support structure are all critical to their academic success, all the way up to graduation."
Efforts to improve graduation rates started years ago
The steady improvement of the overall four-year graduation rate can be traced back to 2006, when the UH Mānoa Office of Undergraduate Education was established. A team of administrators and faculty identified barriers to student success and developed the Student Engagement, Retention and Graduation plan, which consisted of more than 30 initiatives focused on improving student engagement and the quality of the student experience. These initiatives included:
Developing an online degree audit system to engage students on their academic track.
Establishing an academic policy of mandatory advising for all students.
Creating four-year academic major plans to provide students with a clear path toward degrees.
Establishing advising offices in the UH Community Colleges to better assist students transferring to UH Mānoa.
"Our success reflects a concerted effort on the part of faculty, staff, students and administration focusing their efforts on meaningful inclusive strategic change that impacts student graduation and retention rates," said Ronald Cambra, UH Mānoa assistant vice chancellor for undergraduate education. "We are always actively seeking to improve our support of students on our campus, reflecting our themes of engagement, partnership and a stronger sense of stewardship of the campus. These are exciting times with real change, and we know we can do even better!"
Retention rates also reach record highs
UH Mānoa also reached a historic high in its one-year retention rate, the rate of freshmen returning for their sophomore year. The retention rate hit 79.1 percent in fall 2018, up from 76.6 percent in 2015. A commitment by the university to improve student recruitment, retention and graduation continues to pay dividends. Along with the graduation and retention rate increases, UH Mānoa welcomed 2,209 first-time freshmen in fall 2018, the largest freshman class in the university's 111-year history.