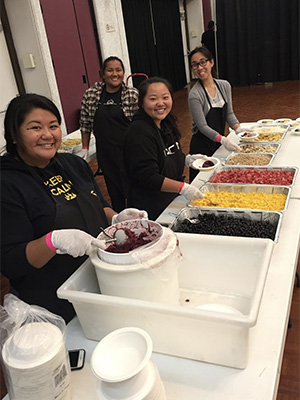 The University of Hawaiʻi at Mānoa Campus Center Board Activities Council is hosting its annual Cram Jam during finals week December 9–13. Campus Center will host late-night events and help prepare students to ace their finals.
"Cram Jam is essentially a night for students to come and relax while studying for their finals," Campus Center Board event coordinator Renee Banks said. "It gives them an open space where they can eat some delicious food, pet beautiful puppies, get massages and much more! Planning for Cram Jam takes a lot of time, effort and focus. However, being able to see the outcome is absolutely amazing!"
The Cram Jam features free massages, midnight breakfast, Coke drinks, a sensory room, a game room, snack bar, dog therapy and $2-off Starbucks coupons. Only UH Mānoa students with validated IDs may enter Campus Center from 10 p.m. to 6 a.m. daily.
Program details
Massage therapy: 10 p.m.–2 a.m. every night in the Executive Dining Room (first come, first served)
Midnight breakfast: 12 a.m. every night in the Ballroom (while supplies last; see menu below)
Sensory room: 10 p.m.–2 a.m. every night in 203C
Game room: 10 p.m.–2 a.m. every night in 203B
Snack bar: 10 p.m.–6 a.m. across from Starbucks
Dog therapy: December 9, 8–10 p.m., December 10–13, 9–10 p.m. on the second floor
Starbucks coupons: Redeemable every night 10 p.m.–12 a.m. (while supplies last)
Midnight breakfast menu
12/9: Build your own loco moco (fried rice, hamburger patty, scrambled eggs, gravy)
12/10: Local style breakfast (pancake, hash brown, pork sausage)
12/11: Açai Bowls
12/12: Chicken and waffles
12/13: Boujee breakfast (yogurt with fruit and granola, avocado toast)
For more information, call (808) 956-4491 or email the Campus Center Board Activities Council.