Ground was broken in January for an Academy for Creative Media building at the University of Hawaiʻi–West Oʻahu as Gov. David Ige and other elected officials joined UH President David Lassner, Chancellor Maenette Benham and others on the Kapolei campus to commemorate the start of construction.
Work on the $33.3 million, two-story building is scheduled for substantial completion in June 2020, and will be the seventh structure built on the Kapolei campus. UH West Oʻahu moved to its current home in 2012 and for the past two years has been named the fastest-growing public baccalaureate institution in the nation.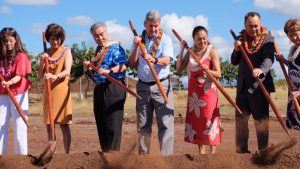 Lassner recognized Christopher Lee, director of the Academy for Creative Media–UH System, for coming up with the idea for the program spanning the UH's 10 campuses, and that the new building will be a first for UH in being available to students from other campuses.
Lee said, "Itʻs obviously an investment in the future and it's a statement of trust and belief in our program. And it's a commitment to our students and the future, and it's hopefully just the beginning of what is going to transform the west side of Oʻahu into Hawaiʻi's digital media city."
The Academy for Creative Media building will link complementary facilities and programs throughout the 10 UH campuses and across the state as a catalyst for Hawaiʻi's intellectual property workforce. Creative media has become one of UH West Oʻahu's quickest-growing programs after starting with 13 students in 2014. Today, it has more than 12 times that number and has transfer agreements with UH's seven community colleges, allowing creative media graduates from the two-year campuses to complete a four-year degree.
The program is designed to prepare students for work in the creative economy, including for positions within video game design and development; interactive design; motion and visual graphics; transmedia film; and television production and new media.
"This new building, this new program is a resource and we have extremely talented faculty and we have a log of passionate students that are here willing to learn," said UH West Oʻahu student Jessica Manapul. "I think having this new building at home in Hawaiʻi will allow us to actually give back to Hawaiʻi."
The 40,685-square foot building contains a two-story sound stage, production and teaching areas, and another area with faculty space, eSports room, flex classrooms and creative media labs, Foley studio and sound-mixing studio and a 100-seat screening room.
There also will be covered outdoor spaces along with an LED wall facing a amphitheater consisting of grassy seating that can accommodate 250 people.
The design-build contract for the structure was awarded to Kiewit Building Group. The architect of record is Honolulu-based Next Design LLC. Plans call for the building to be ready for classes in the 2020 fall semester.
For more go to E Kamakani Hou.
Sneak peek of the new facility