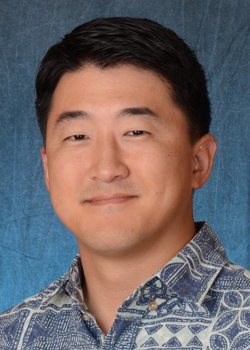 A Kapiʻolani Community College emergency medical services instructor has garnered a top career and technical education honor. Andrew Akana was recently selected as the 2019 Hawaiʻi Association for Career and Technical Education (ACTE) Postsecondary Teacher of the Year.
Akana has trained many of the emergency workers in Hawaiʻi. There were approximately 780,500 Career and Technical Education (CTE) jobs in the state in 2018, and about 1,181 jobs were specific to emergency medical technicians and paramedics.
"If you have ever observed [Akana] in the classroom, you would see he is a truly talented and committed instructor," said Jeff Zuckernick, chair of Kapiʻolani CC's emergency medical services department. "Furthermore, he goes well beyond what is expected of him outside of class with respect to service to the college and community."
While Akana said he is very appreciative of the award, he feels there are other equally deserving faculty at Kapiʻolani CC. He believes the college has provided him supportive mentors and leadership who encouraged him, and that he is giving back the positive experiences he received from the college.
With the recognition, Akana is now part of the Hawaiʻi ACTE Emerging CTE Program, a professional development training program for highly motivated faculty, counselors, staff and administrators in both secondary and post-secondary education that develops future champions in the areas of CTE.
The program offers a base knowledge about CTE and examines best practices in Hawaiʻi and across the nation. Members will have an opportunity to learn from discussions, case studies, guest speakers, mentoring and coaching. Campus and business tours will be used to develop the skills for inside and outside the classroom, with an emphasis on continuing excellence and the importance of CTE to Hawaiʻi's future.
—By Louise Yamamoto