As the global esports industry moves mainstream, the University of Hawaiʻi at Mānoa's College of Social Sciences is in the game, preparing students for careers in this fast-growing field.
Leading the charge in this arena is Nyle Sky Kauweloa, a graduate assistant in the School of Communications in the College of Social Sciences. His course, Esports and Society, is the first of its kind at UH Mānoa and covers the rising popularity and significance of this growing industry. His students study the emerging role of esports as a new form of mainstream entertainment, including topics such as: general foundational concepts, structure of esports and competitions, evaluation of new technologies arising in this field, and gender as well as ethical issues and concerns.
"As an academic program, we're talking about creating courses, creating modules that perhaps exist within different courses that touch upon different facets of esports. No longer is it just two people playing competitive games, but it's the whole ecosystem that supports this entire sort of industry," said Kauweloa.
Create your own career destiny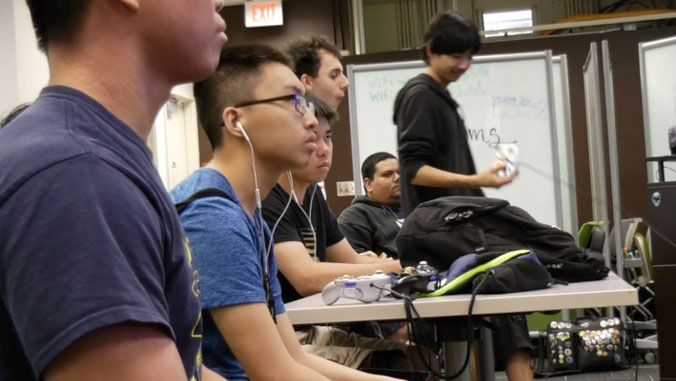 According to statista.com, the global esports market revenue was valued at close to $865 million in 2018. Expectations of continued rapid growth lead to projections pegging global revenues to reach $1.79 billion by 2022.
The esports industry offers graduates many career opportunities, and this is where Kauweloa sees the School of Communications stepping in. He hopes to provide support for students, not only as competitive gamers, but to empower them to create their own destiny in this field, whether it be a web developer, shoutcaster (commentator), analyst, content creator, nutritionist, lawyer or esports experts in media production, marketing, social media or sales.
Program support
Esports also has a fan in UH President David Lassner. While professional gamers may make up 1 percent of the esports universe, Lassner has his eye on the 99 percent and preparing them for a role the industry.
"We will be attracting students to this university with an amazing esports program, including the classes that we're offering in esports, again, not in how to game, but what esports is and what it means economically and socially for society," said Lassner. "In addition, there's a whole economic ecosystem in jobs around organizing the business of esports."
UH Mānoa has an esports center for student players thanks to the Academy for Creative Media System that funded all the gaming stations and Chad Walton at the iLab who provided the space for the gamers to play.
Gov. David Ige, who was recently on campus to meet with students on UH Mānoa's competitive esports team, added, "Getting students to the campus who are excited about playing is one more step towards being able to get the software engineers, digital artists and digital competent people to actually design, build and create things."
Kevin Nguyen, a UH Mānoa senior majoring in communications and who has been active on the campus esports scene, agrees. "I think the University of Hawaiʻi itself has a responsibility to try to get these students connected, and it can help grow the industry because if we work together, we can build it up together," said Nguyen. "I want to give students the opportunity that I struggled with trying to get. I want to make sure that when they grow up they can go up to their mom and their dad and say, look, there's this great program here at the University of Hawaiʻi, I can promise you that it's a very secure path."
First esports team competition
UH Mānoa is gearing up to send its first team to an esports tournament, which is tentatively set for April 16. The team will participate in a five-week, round-robin event for the game Overwatch. Team members include: Chris Shimabukuro (coach), Clark Acohido, Nadia Boneza, Alan Muneoka, Chih-Hung "Bryant" Wang, Jonathan Valencia and Ashley Zhang. It is one of only a few teams nationwide with female players, which is rare in the field of esports.