The University of Hawaiʻi at Mānoa esports program has been named the 2022 best collegiate esports program of the year by Esports Awards at events that wrapped up on December 13.
UH Mānoa took first place out of a pool of 10 finalist institutions. In 2021, UH Mānoa was named one of 10 finalists. This year's winner was selected by an esports panel of experts (75%) and public vote (25%).
"I am completely humbled by the extraordinary nomination and award by the Esports Awards for the best collegiate program in 2022," said UH Mānoa Esports Program Director Nyle Sky Kauweloa. "This is vindication that the path that I have been directing the program over the past several years has reaped benefits for our students. In particular, the relationship with the Overwatch League, and the internships created for our students, stood out for the video games industry in their acknowledging the importance of the collegiate program we have at UH Mānoa. I just want to send my deepest gratitude to students, faculty, administrators and industry for helping this program flourish."
Best in the U.S.
The esports program at UH Mānoa has skyrocketed since it began in 2019. Among its major accomplishments over the past year, UH Mānoa's Valorant team is in the top four in the nation throughout 2022, after winning its first international title in August 2022 and its first collegiate title last year.
UH Mānoa was the host location for another Overwatch League tournament for the second straight year, after becoming the first higher education institution to host the league's regular season tournaments, playoffs and grand finals in 2021.
UH Mānoa's League of Legends team earned a runner up finish in the Mountain West division in 2022, and the team's social media presence earned a top 10 ranking among collegiate programs.
Ambassador of the year finalist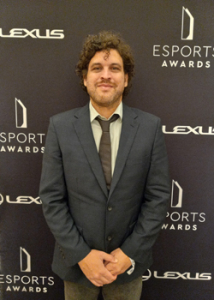 Kauweloa was one of 10 finalists for the collegiate esports ambassador of the year award. A spring 2022 communication and information sciences PhD graduate and head of the UH Mānoa Esports Task Force in the College of Social Sciences, Kauweloa has been leading the UH Mānoa esports team since its inception. He has transformed the program to become the best in the nation in just two years.
He has also spearheaded curriculum initiatives in the esports industry, which is projected to reach $1.38 billion in global esports revenue in 2022, up from $1.08 billion in 2021. UH Mānoa now offers an internship credit course for students who volunteered during the Overwatch League tournaments, and Kauweloa also helped launch a three-course esports series in the College of Social Sciences.
Visit the UH esports team's Twitter and Discord pages. More stories on UH's esports program.
—By Marc Arakaki
The @UHEsport wins Esports Collegiate Program of the Year Presented by @BlinkfireStats!

— Esports Awards (@esportsawards) December 12, 2022