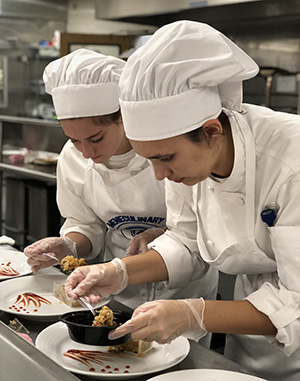 Many Hawaiʻi students are hurting from missing their most important meal of the day. Hawaiʻi ranks the lowest in the nation for student participation in a healthy school breakfast, according to the Food Research & Action Center's School Breakfast Scorecard. Students participating in Hawaiʻi's School Breakfast Program dropped from 27,571 in the 2016–2017 school year to 26,170 in 2017–2018, a decrease of 5.1 percent.
Besides less hunger, benefits of a healthy school breakfast include better test scores, improved student health and fewer distractions during classroom learning.
To support school breakfast participation, Kapiʻolani Community College hosted a Hawaiʻi Department of Education (DOE) Jump Start Grab & Go Breakfast Challenge on May 8. The event was jointly organized with Hawaiʻi Appleseed, DOE school food services and career and technical education divisions and La Tour Bakehouse to encourage better breakfast participation by students. Twenty-five students from eight schools created 14 grab-and-go sweet or savory breakfast items.
Said Daniel Leung, program coordinator for Kapiʻolani CC, "This was a career pathway event for high school culinary students to experience a process for products development with real world applications, and to work in KCC's bakery labs and kitchens."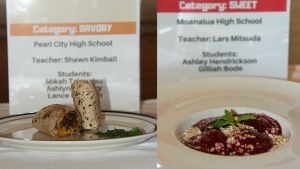 Savory
1st place: Pearl City High School, Breakfast Burrito
2nd place: Campbell High School, Bacon and Cheddar Muffin
3rd place: Kaiser High School, Breakfast Burrito
Sweet
1st place: Moanalua High School, Acai Bowl
2nd place: King Kekaulike High School, Ube Breakfast Bar
3rd place: Mililani High School, Strawberry Banana Yogurt Parfait
Entries had to be prepared in advance and delivered frozen so they could be tested for freezing and reheating. Cost per item could not exceed $2. Each product had to contain at least two ounces of whole grain and no trans fats.
Contest judges for the Jump Start Grab & Go Breakfast Challenge included First Lady Dawn Amano-Ige, Curtis Haida, DOE school food services supervisor, La Tour Bakehouse Chef Chris Okuhara, Honolulu Family Magazine Managing Editor Cathy Cruz-George and YMCA Youth Governor Krysta Reese.
Amano-Ige and the DOE launched the "Jump Start Breakfast" pilot program in February 2019, with the goal of increasing the average daily participation in school breakfasts at 10 schools by 1,100 meals.
La Tour Bakehouse Chef Tiffanie Masutani helped manage the competition event for the DOE teams. Both she and Okuhara are Kapiʻolani CC culinary program alumni.